10/02/2021
In the west of Bielefeld, at the small garden colony 'Sieben Hügel' on the slope of the Teutoburg Forest, there is a parking lot. From here you have a particularly beautiful view of the city. Especially early in the morning the way there is worthwhile. The following two photos were taken on October 1, 2021. On this day we had a very beautiful morning red. The air was especially clear that morning and you can see all the way to the 'Wiehengebirge', a low mountain range on the border between the states of North Rhine-Westphalia and Lower Saxony. The chimney in the picture belongs to the municipal utility of Bielefeld.
Western Bielefeld one hour before sunrise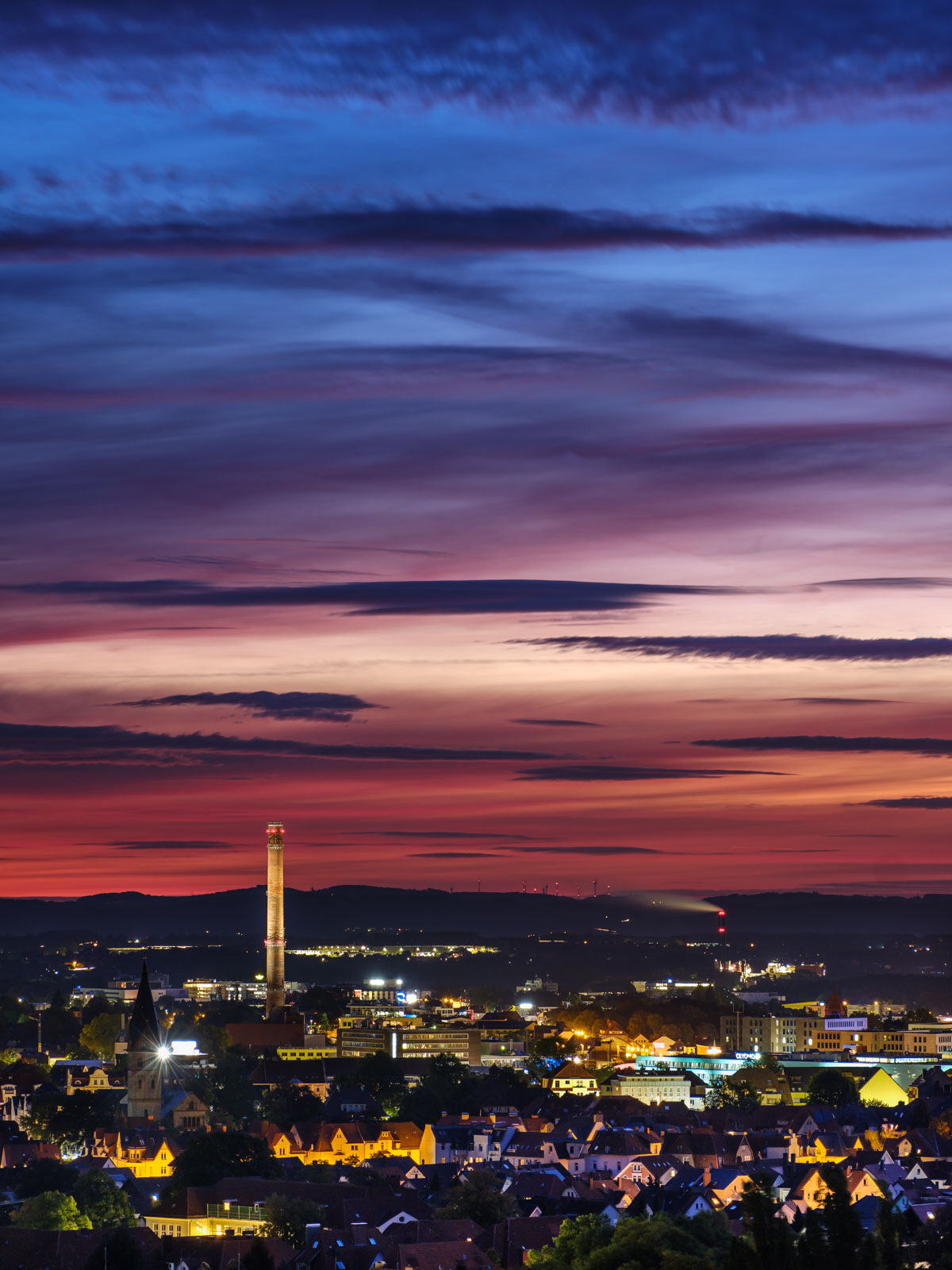 Sky in flames over Bielefeld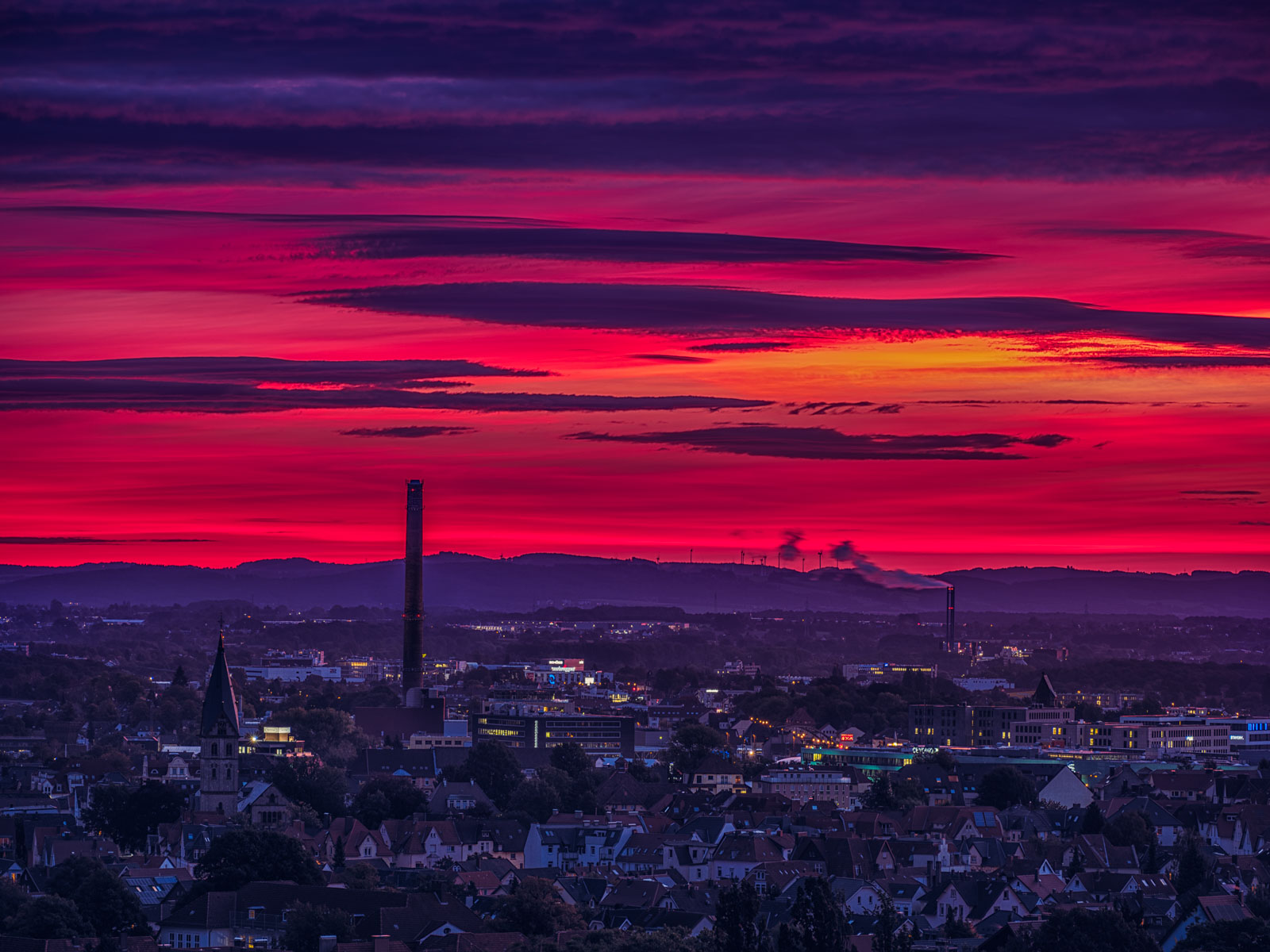 10/01/2021
Last week I was once again up on the 'Johannisberg'. Now in autumn, the changeable weather always makes for beautiful cloud formations. In the morning early and in the evening you often have a particularly beautiful light.
My goal this morning was to photograph the different stages from dawn to sunrise. The following pictures were taken during the first stage. I will publish the pictures of the actual sunrise in a few days.
Bielefeld at dawn in late September 2021 #1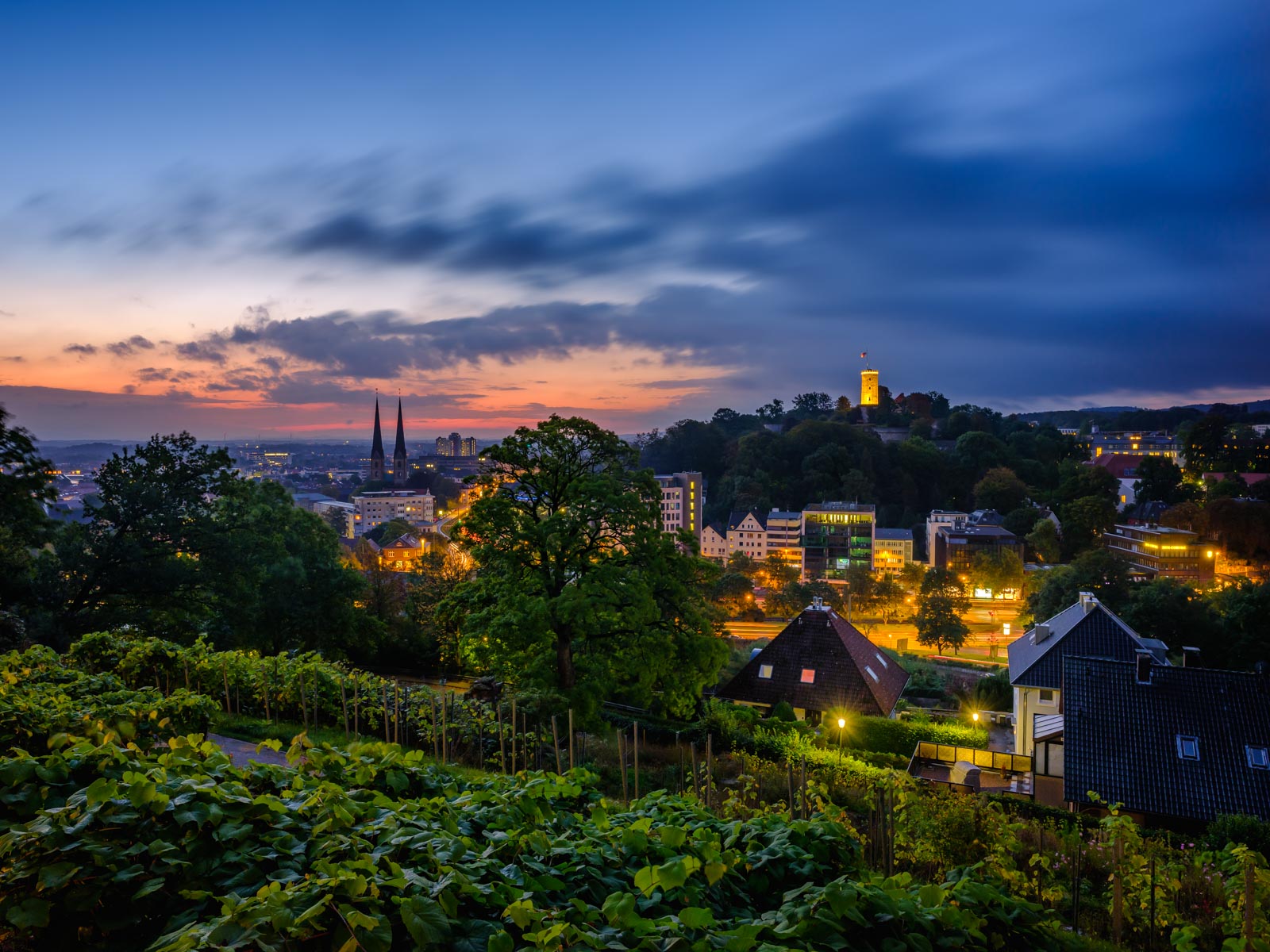 Bielefeld at dawn in late September 2021 #2
Bielefeld at dawn in late September 2021 #3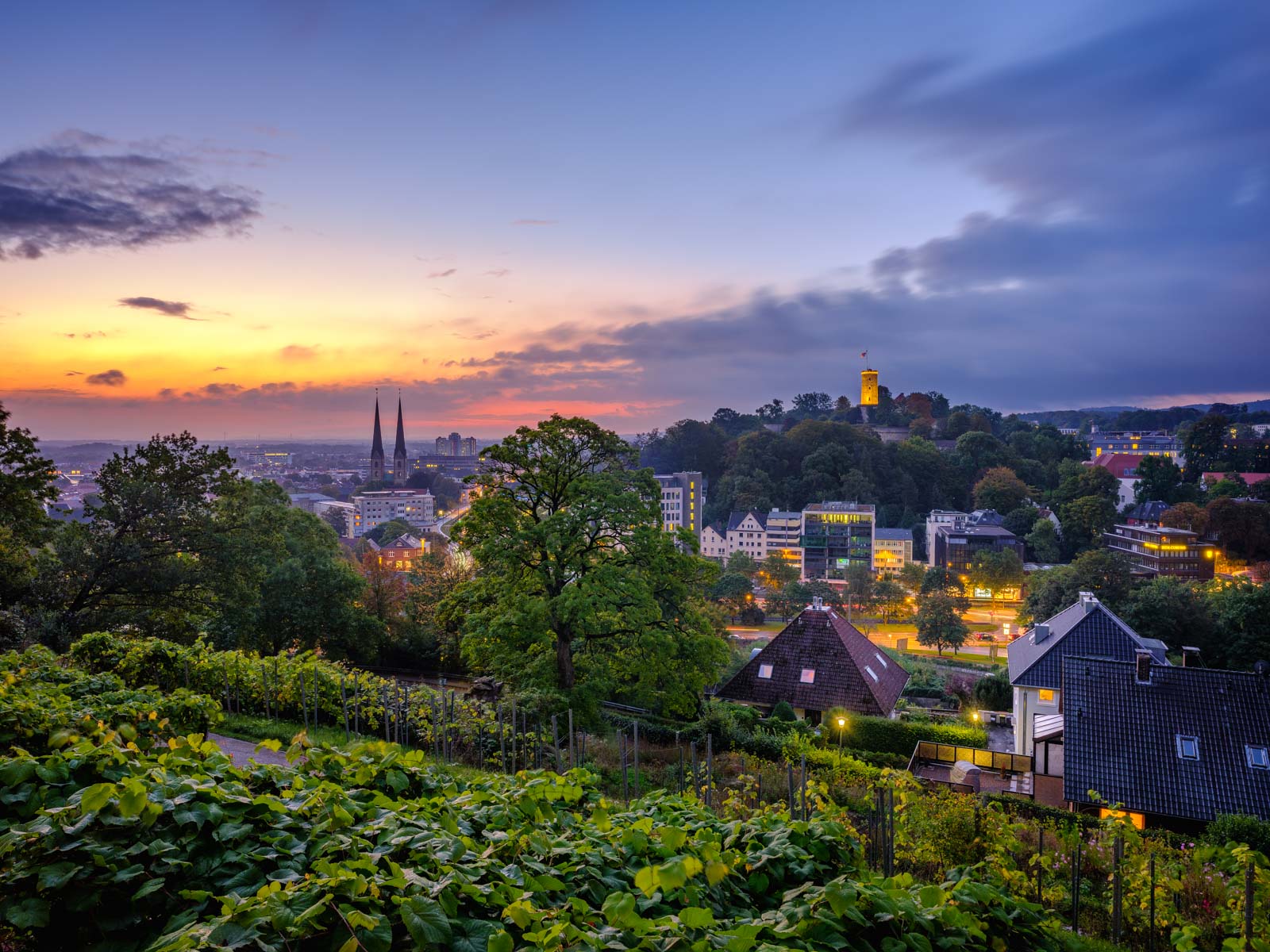 Bielefeld at dawn in late September 2021 #4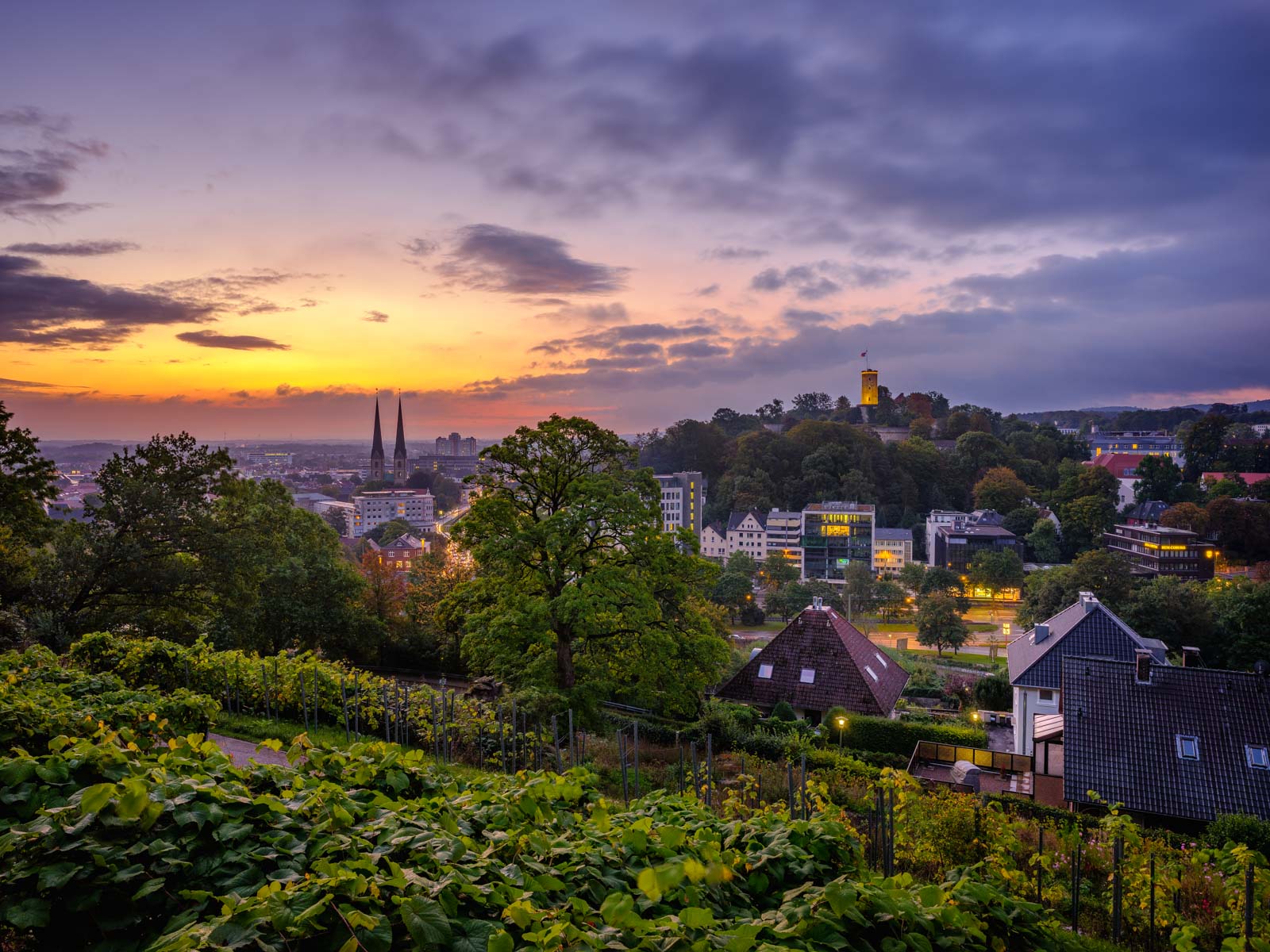 Bielefeld at dawn in late September 2021 #5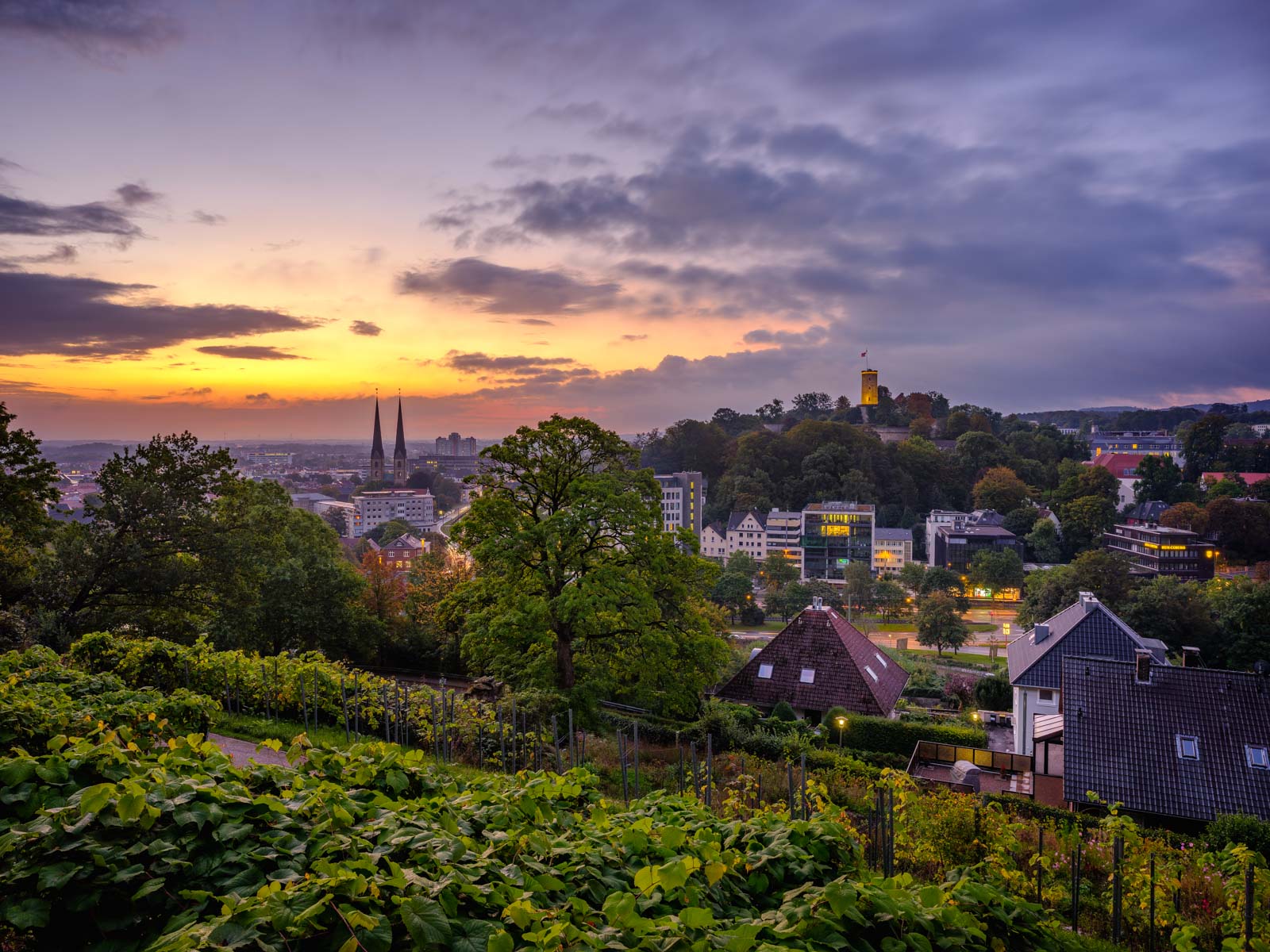 09/28/2021
From the Sparrenburg Castle you have a beautiful view of Bielefeld's city center. That's why there are countless photos from up there. So the perspective is not particularly original. However, we had very nice autumn weather in the past few days and I wanted to take advantage of that. Officially, the castle is accessible only from 9 o'clock in the morning. Sometimes, however, the gate is open all night if someone has forgotten to close it. So you can't rely on getting in as early as 6:30 in the morning. I was lucky that day. I think the result was worth photographing the old well-known motif once again. The light was really beautiful.
Dawn over Bielefeld
Towers of the Marienkirche
(St. Mary's Church)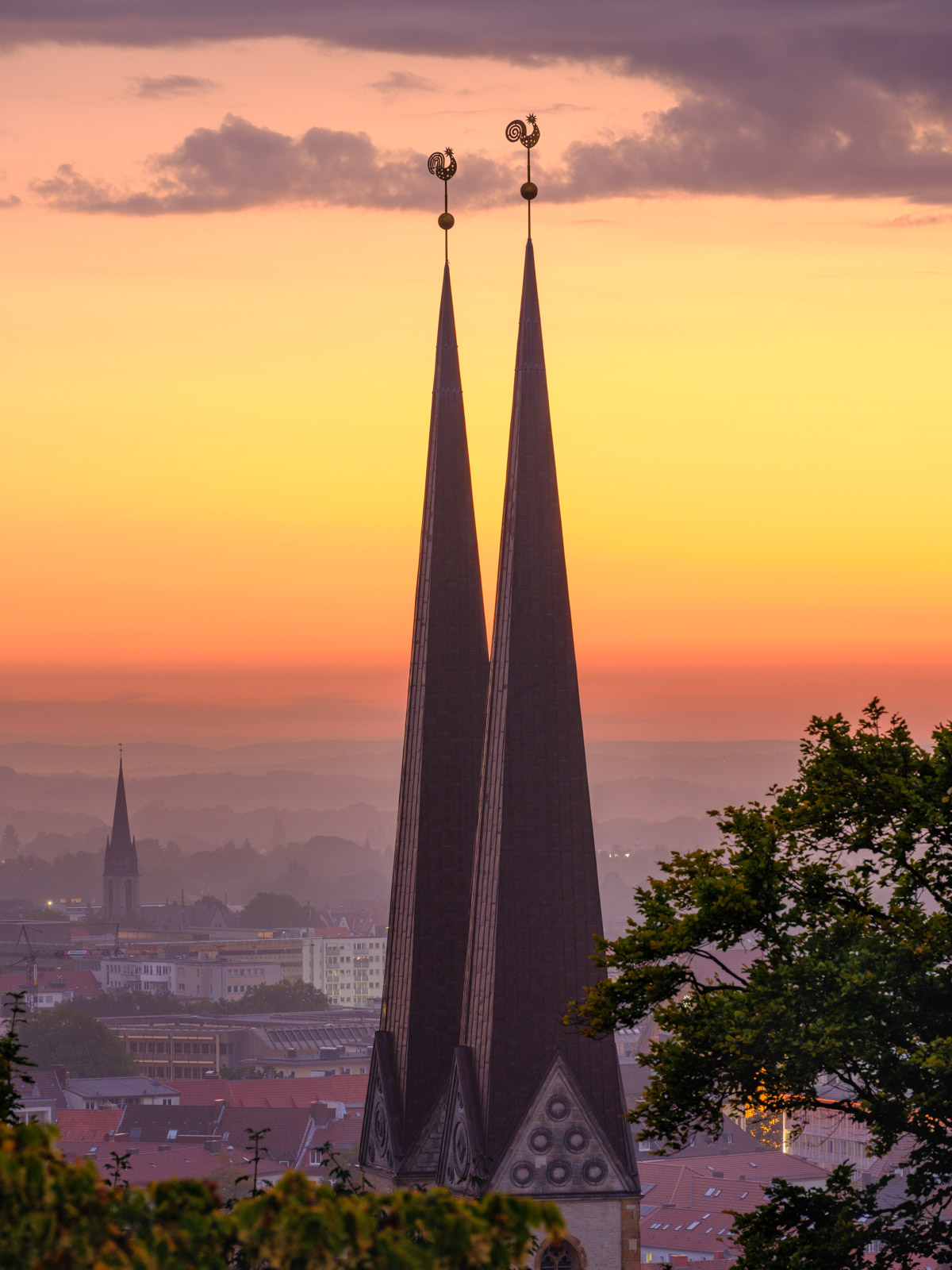 Dawn over Bielefeld city center in September 2021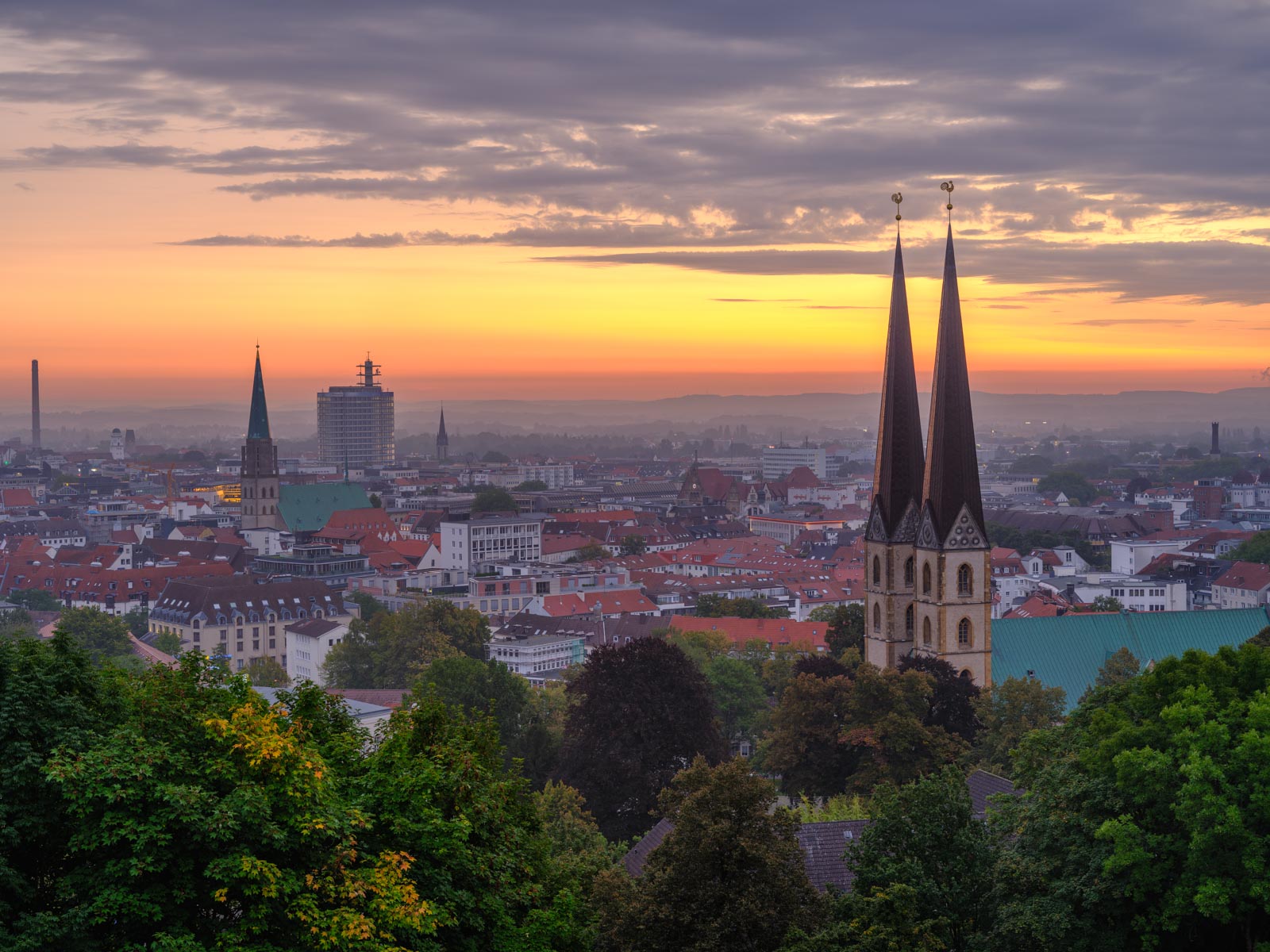 09/19/2021
Slowly, life in the city returns to normal. Due to the COVID-19 pandemic, much of public life has been down for the last year and a half. Also the 'Nachtansichten' (Night Views), which normally take place every year in April. On Saturday, 18 September 2021, it was finally time again.
During the 'Nachtansichten', many buildings in Bielefeld's city center are colourfully illuminated. There are cultural events and the museums and many galleries also join in and are open all night. Here are some impressions.
Nachtansichten 2021 (Night Views) - Kunsthalle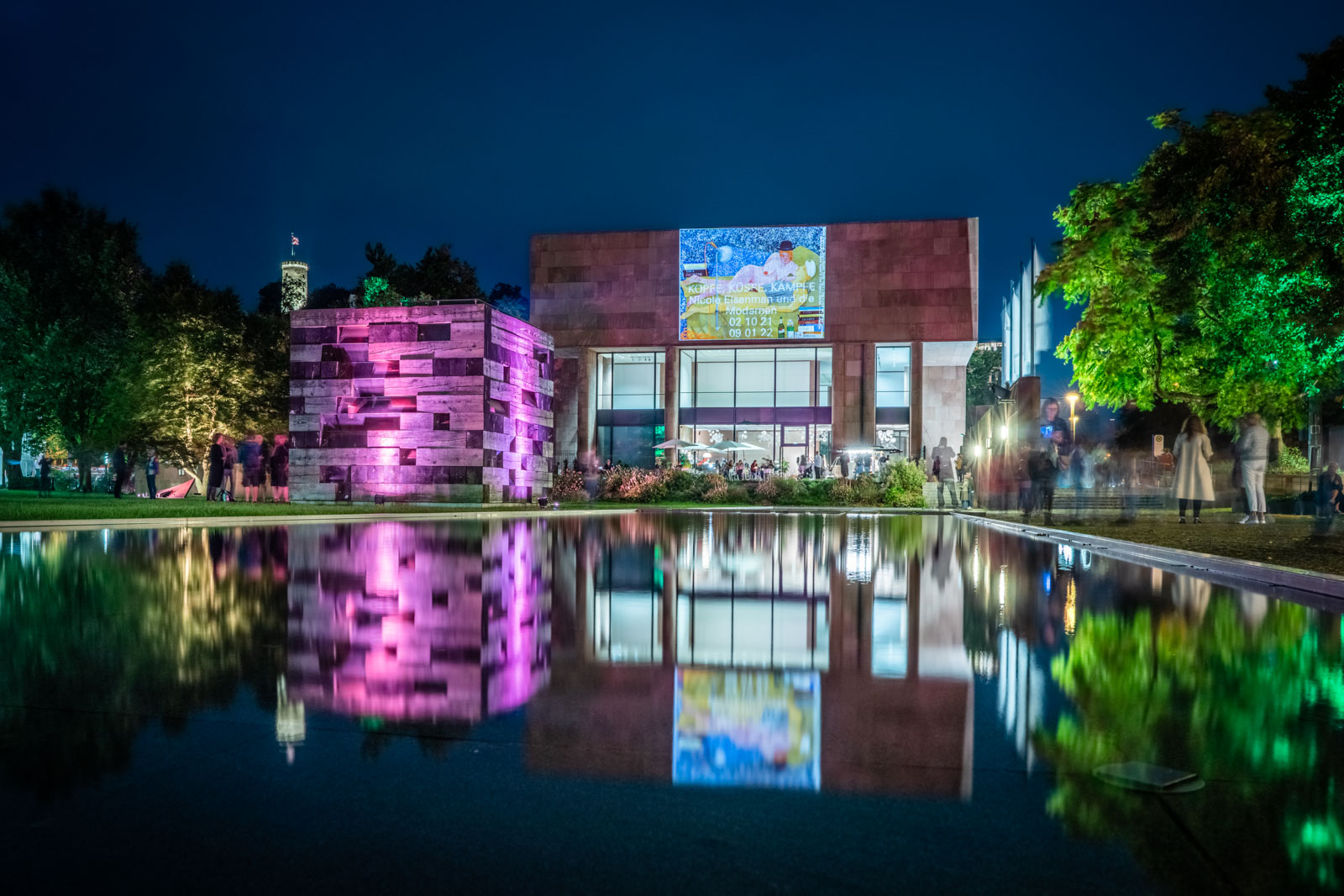 Nachtansichten 2021 (Night Views) - Farmhouse Museum #1
Nachtansichten 2021 (Night Views) - Farmhouse Museum #2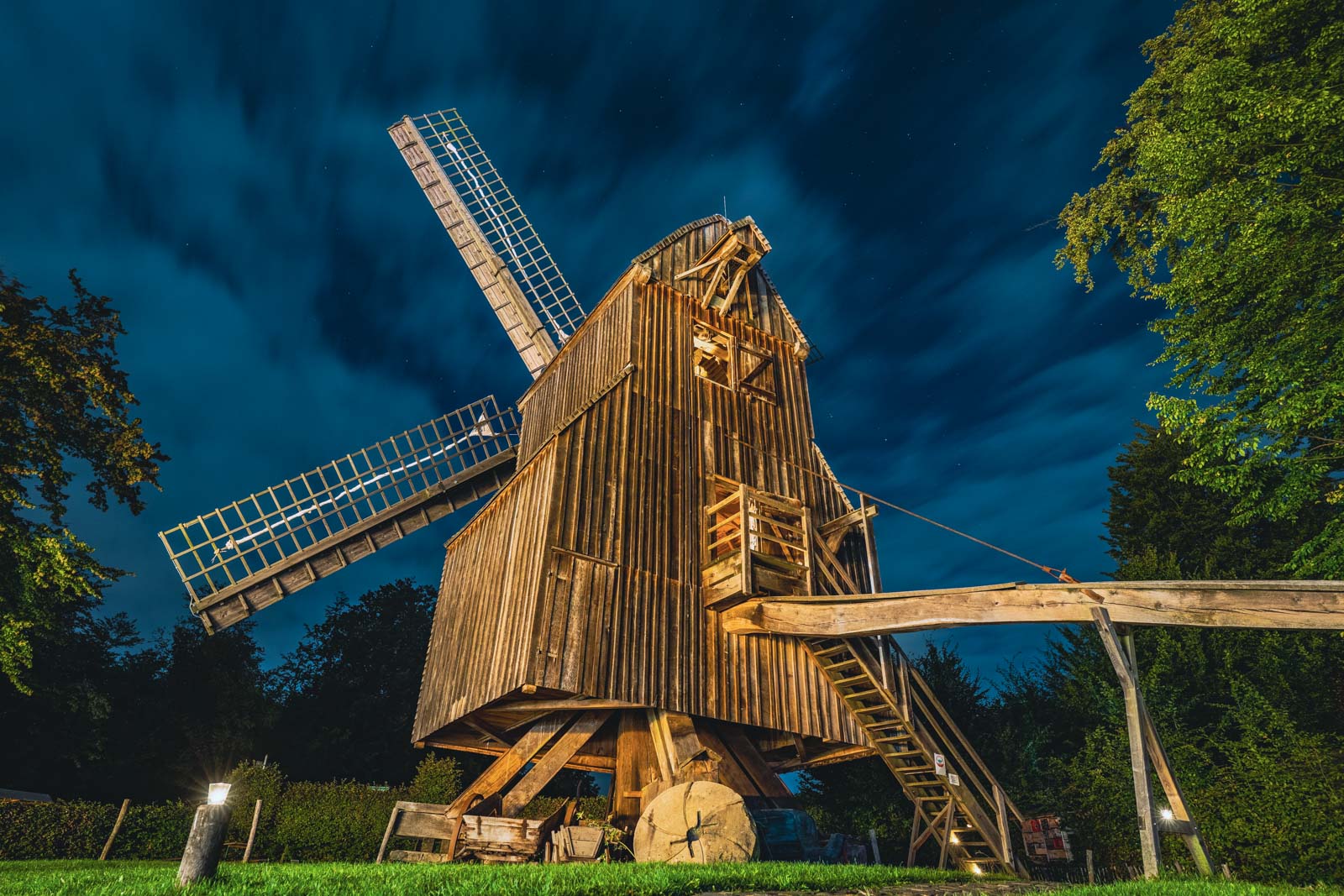 Nachtansichten 2021 (Night Views) - Farmhouse Museum #3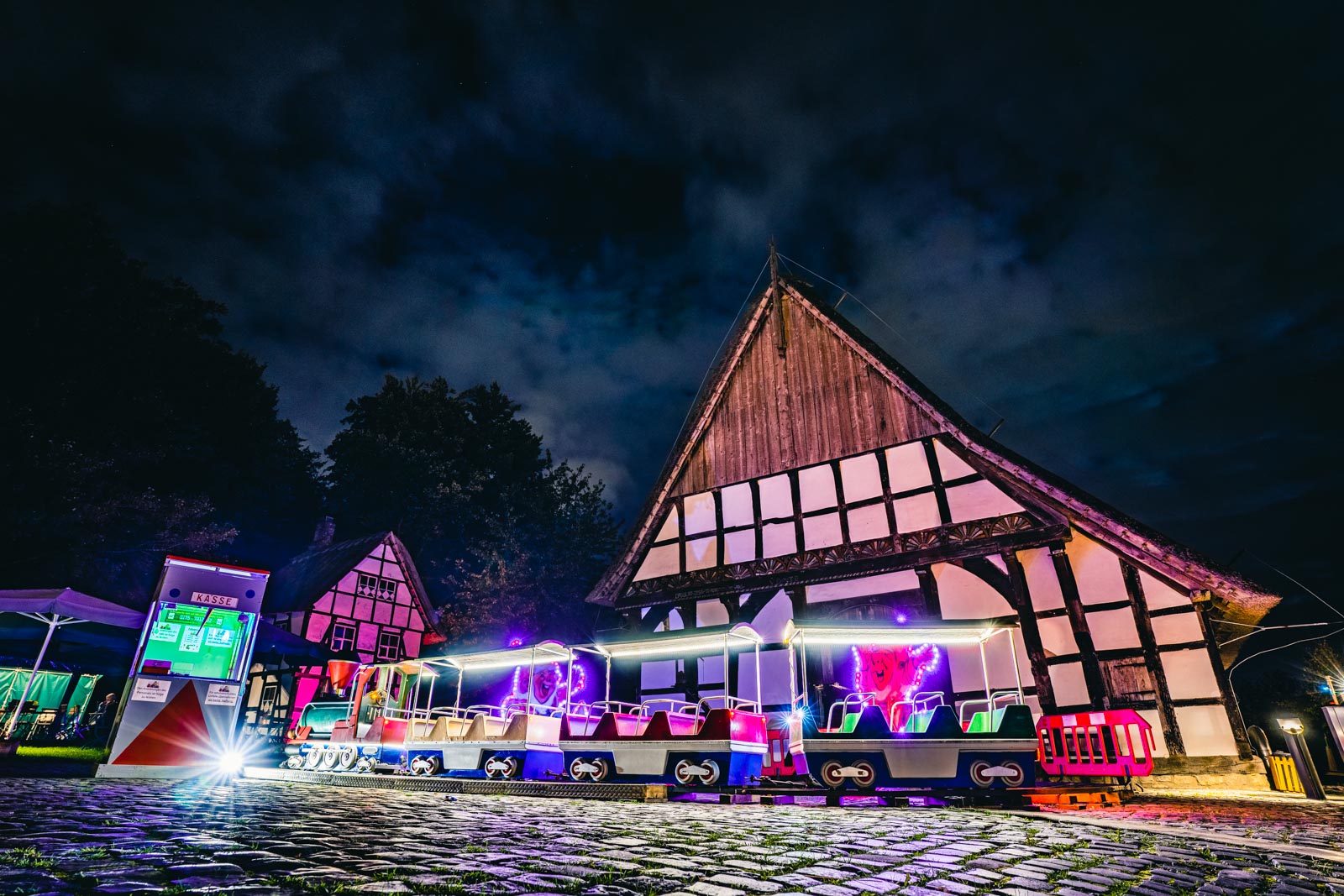 Nachtansichten 2021 (Night Views) - Nicolai Church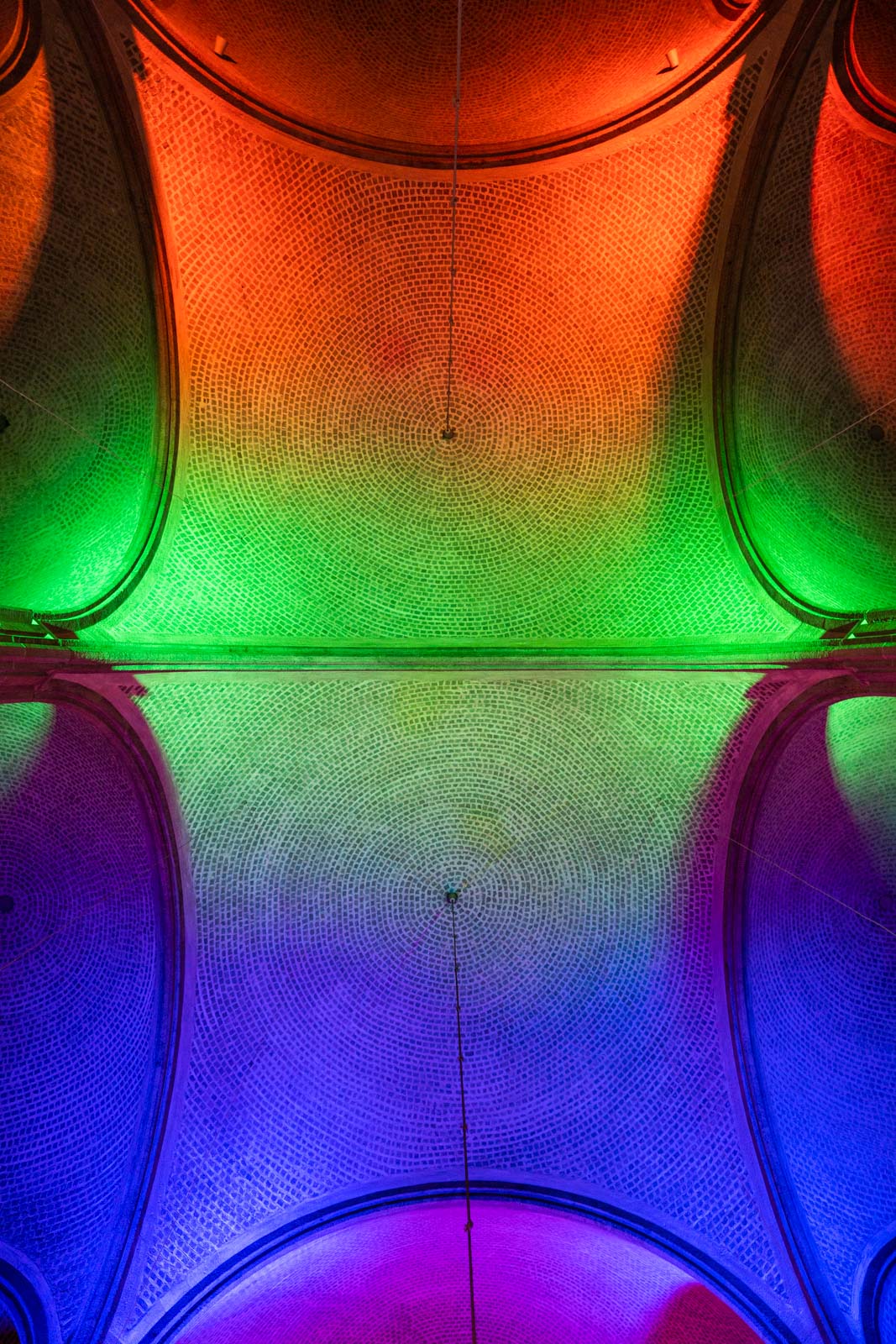 Nachtansichten 2021 (Night Views) - City Hall #1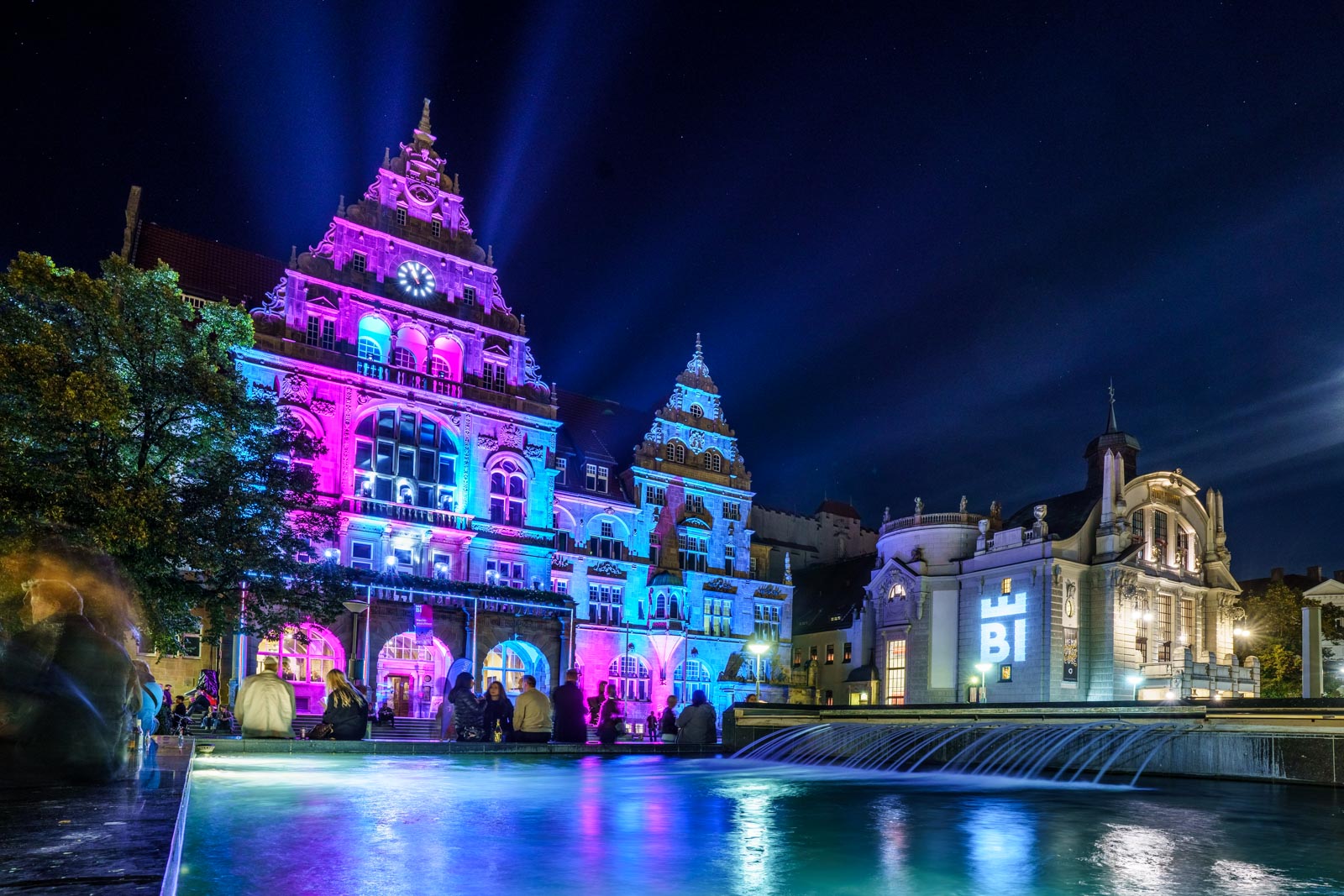 Nachtansichten 2021 (Night Views) - City Hall #2