03/06/2019
Sometimes, even in our tidy inner cities, one encounters urban still lifes that seem to have fallen out of time. Facades where the plaster peels off, backyards with only scantily patched plaster - places that perhaps because they no longer fit into the cityscape seem to have a peculiar charm. This picture shows a backyard with a parking lot at the 'Van-Randenborgh-Weg' not far from the 'Kesselbrink' in Bielefeld (Germany). The photo was taken on a rainy Sunday afternoon with a 35 mm wide-angle lens.
Backyard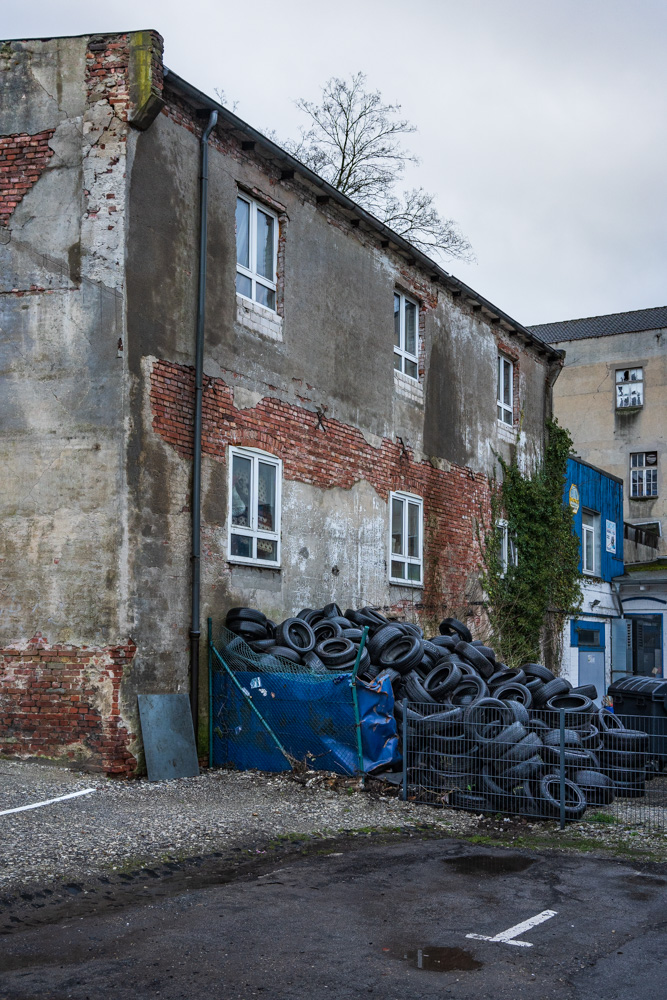 03/02/2019
Red light. Another picture at the 'Nikolaus-Dürkopp-Straße' in Bielefeld in the morning shortly before sunrise. This photo uses the ZEISS Basis Distagon 2/ 40 mm. I find this focal length very interesting, because for me it can replace a 35mm and a 50mm standard lens. The initial aperture of f/2 makes it easy to shoot without a tripod in situations like this.
Red light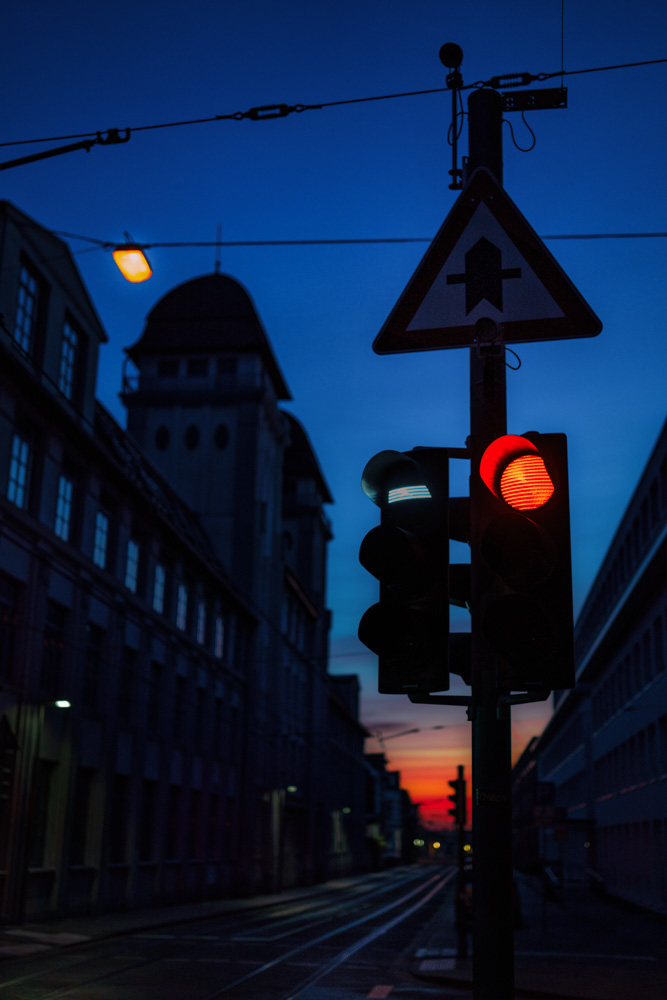 02/18/2019
The company 'Dürkopp' was a manufacturer of sewing machines founded in 1867. For a long time the production facilities were located in the centre of Bielefeld. The company itself later merged with 'Kochs Adler' and still exists today. However, the historic buildings are no longer in use. Today, offices and apartments are located in the building complex. The two old towers at the 'Nikolaus-Dürkopp-Straße' are particularly attractive from an architectural point of view. Since the street, which bears the name of the company founder, has an orientation from east to west, the light in the morning is often very beautiful and is ideal for photographs. Both pictures were taken early at around seven o'clock in the morning with the ZEISS Batis Distagon 2.8/ 18 mm.
Crossing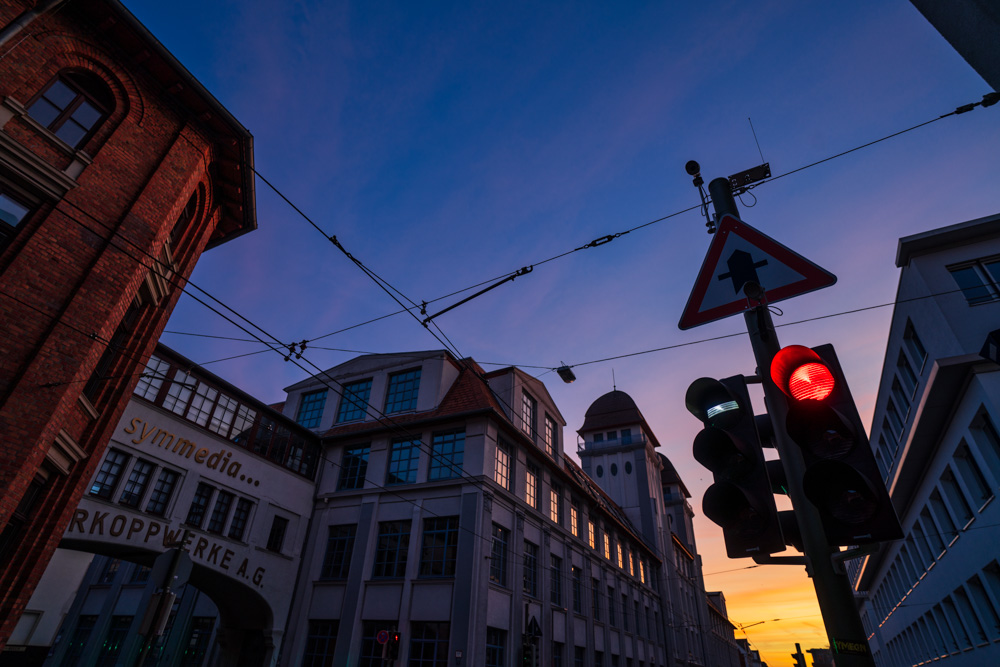 Morning glow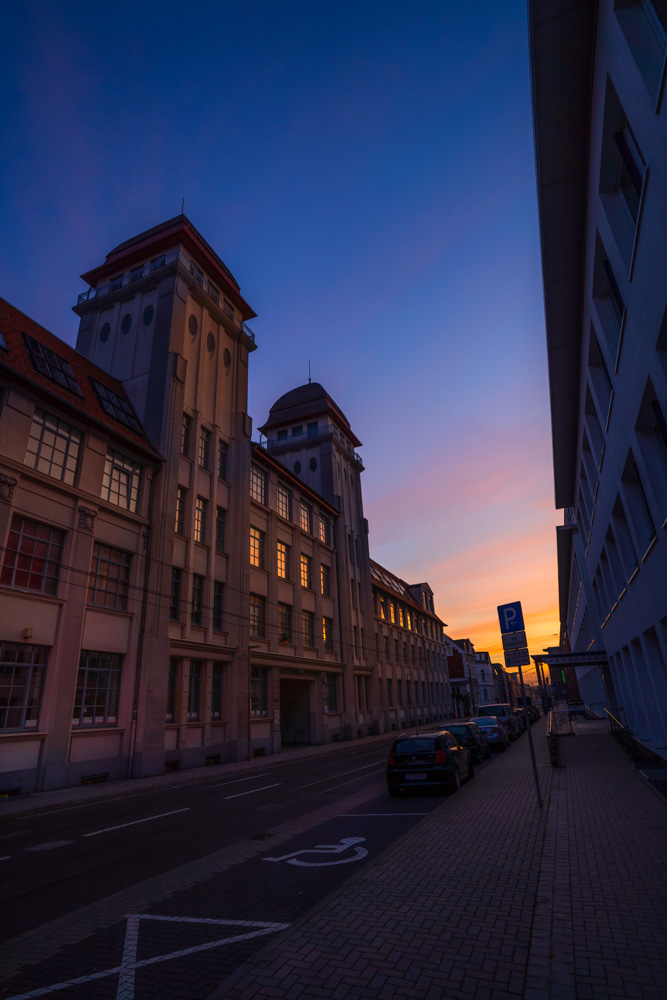 02/17/2019
Graffiti in the light of a street lamp at the 'Brüderpfad' in Bielefeld. The photo was taken very early in the morning in the centre of Bielefeld. Here I used the ZEISS Batis Distagon 2.8/ 18 mm.
Graffiti