11/25/2019
On Sunday afternoon I was in the east of Bielefeld on the way. It's not that easy to find a place where you can legally launch a drone. On a small sports field in a small wood, the 'Heeper Fichten' it is possible and on Sunday we had a really nice sunset. Both photos were taken about half an hour apart.
Sunset in the east of Bielefeld #1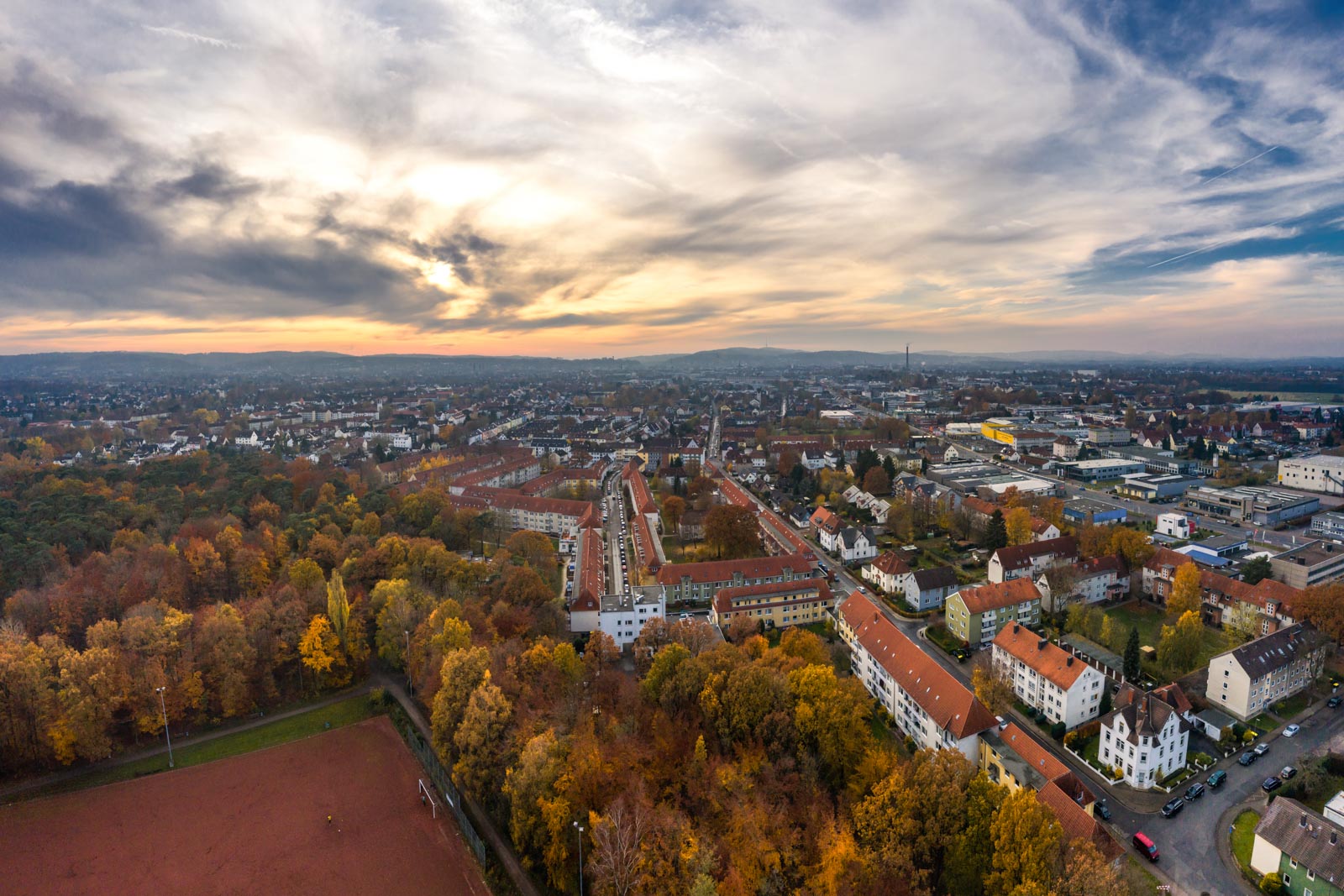 Sunset in the east of Bielefeld #2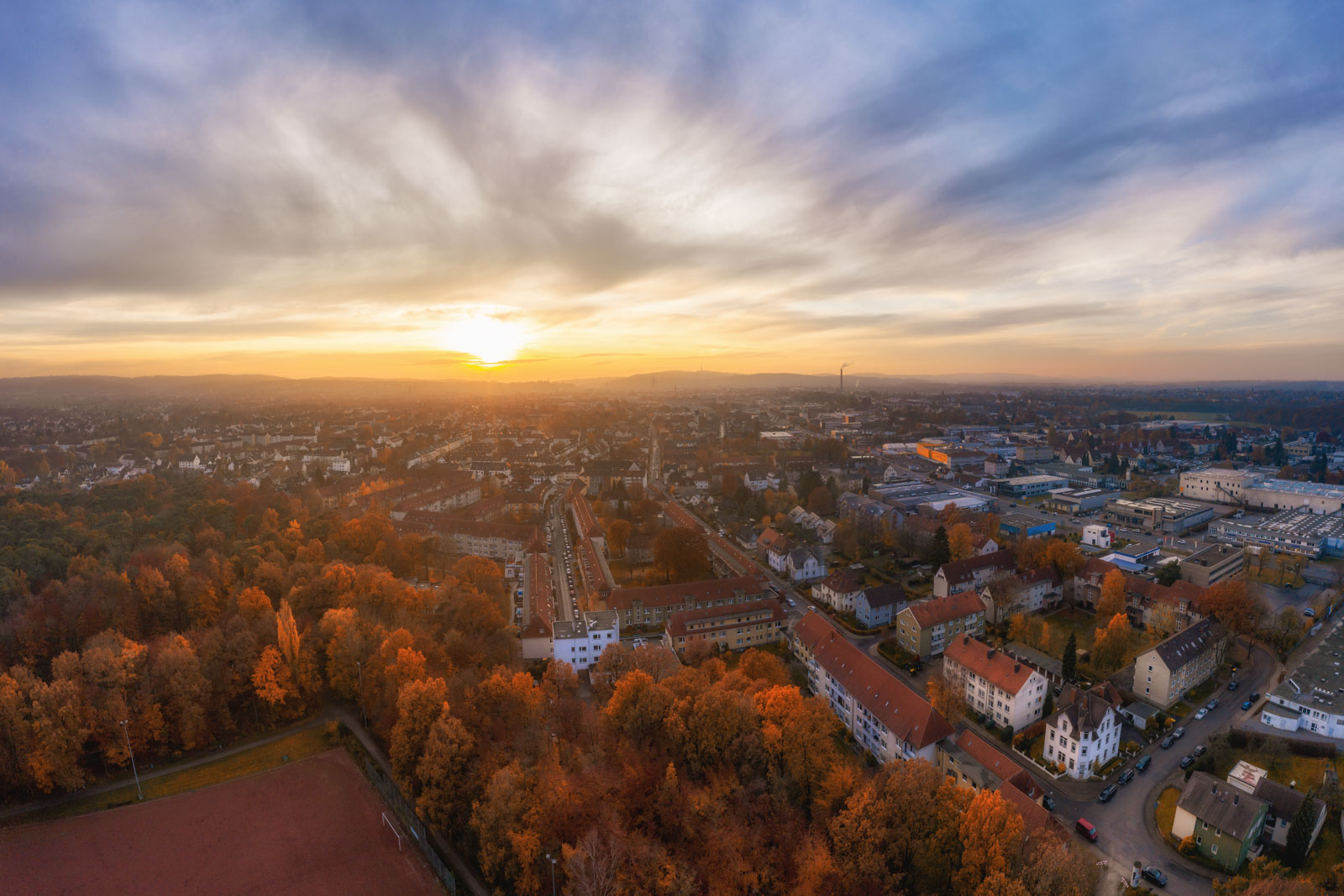 > Nature
11/23/2019
After a week of very mixed weather, a slight improvement was finally announced for Friday, November 22, 2019. In the morning it didn't look like it yet, but I drove to the Bielefeld district Heepen. And it was worth it!
After the rain had disappeared, the sun broke through the grey autumn clouds. I let my drone, the DJI Mavic 2 Pro, climb up and took two panoramas. This shows once more that autumn is a beautiful season for dramatic photos. But you have to be patient.
Autumn sky over Bielefeld-Heepen #1

Autumn sky over Bielefeld-Heepen #2

> Nature
11/21/2019
Unfortunately the weather conditions are not as good as it would be necessary to take good aerial photos with a small drone. Of course, you can't expect it to be mid-November, at least not in Germany. Yesterday the sun came out in the afternoon. I took the opportunity to take some photos of the Bielefeld district 'Stieghorst'. Fortunately, there are also some fields from which one can start drones and were it is allowed. I used the DJI Mavic 2 Pro with its 20 megapixel camera again for these pictures. The focal length is about 28 mm related to the 35mm format. The panorama was stitched from two single shots using Photoshop Lightroom.
Aerial Stieghorst on a November afternoon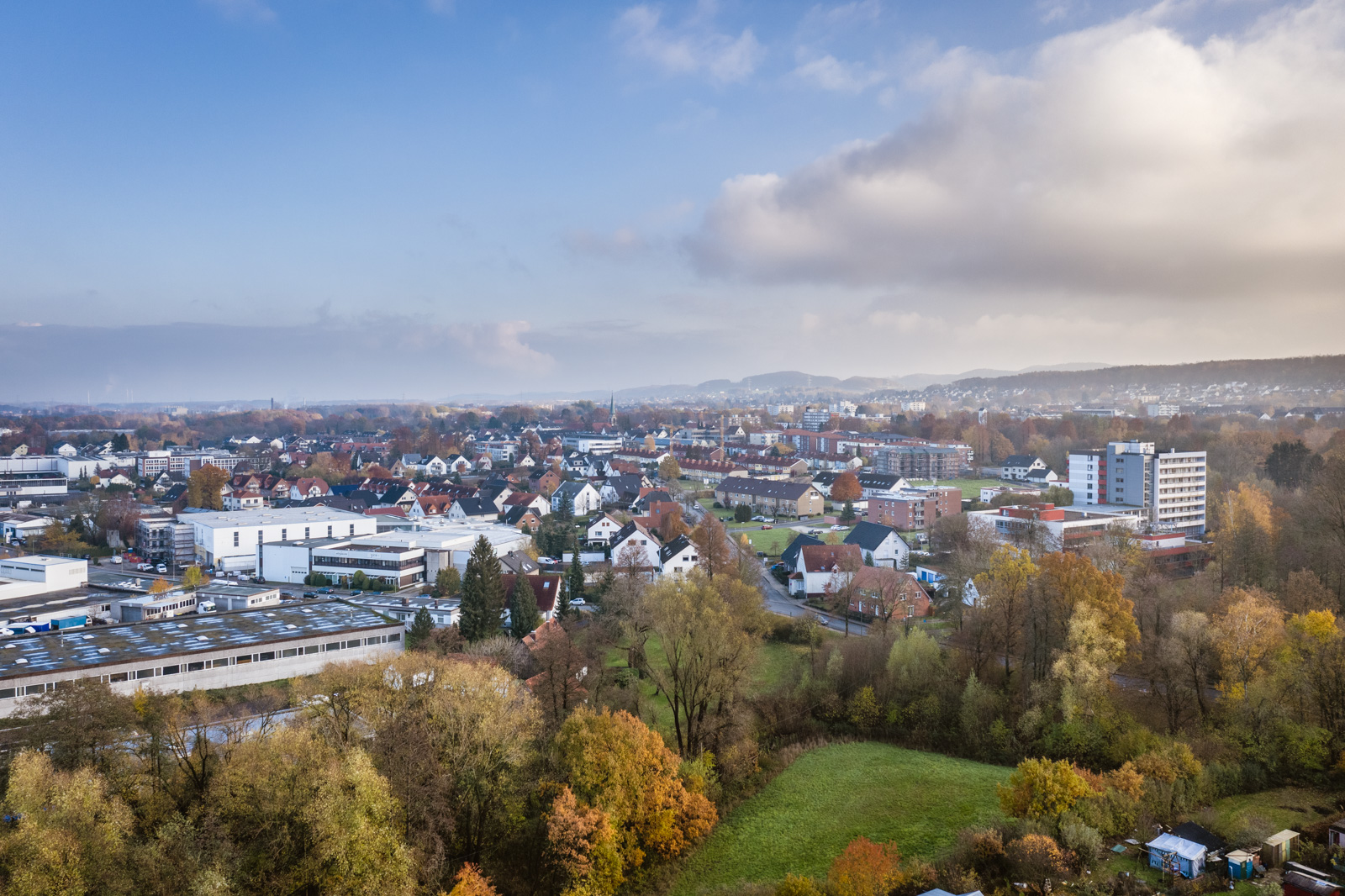 Aerial Stieghorst - Panorama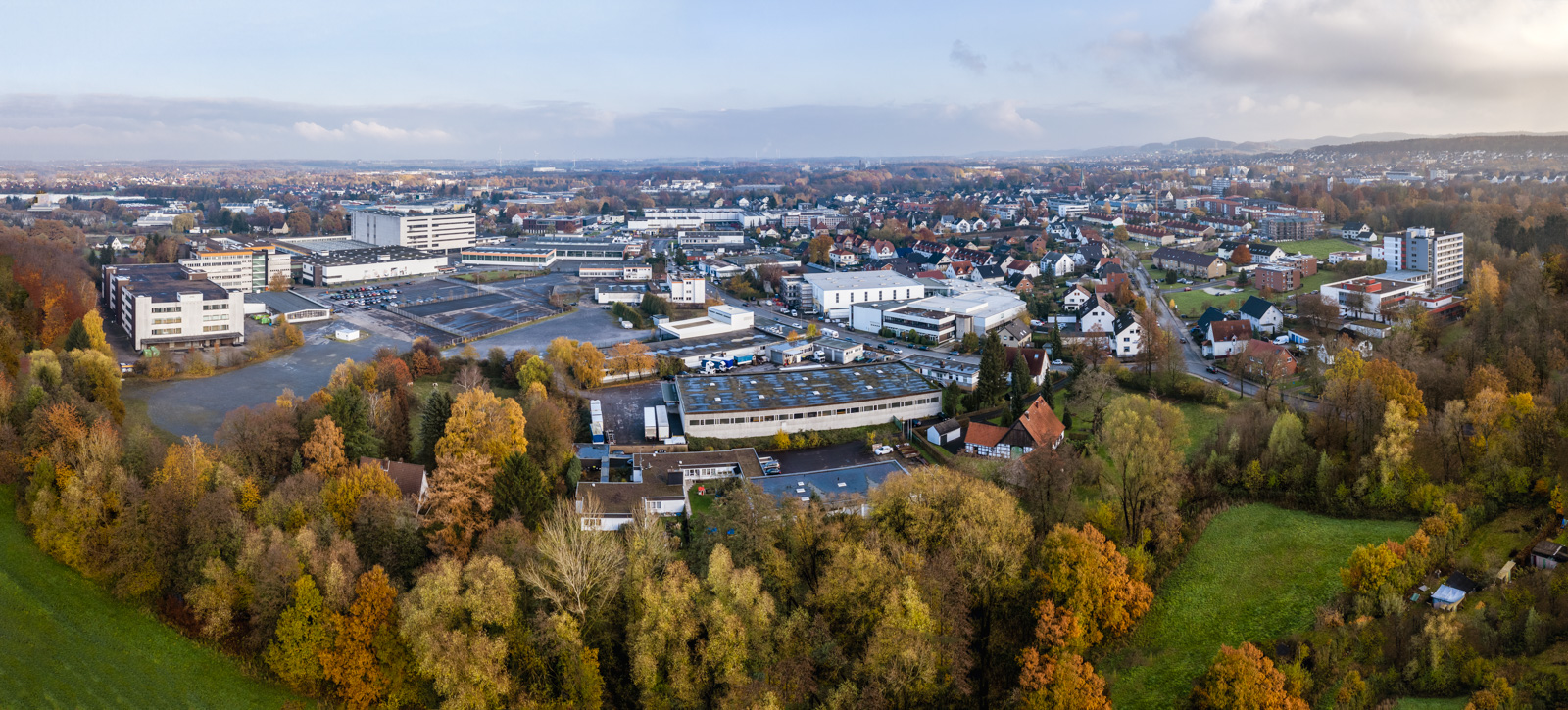 > Nature
11/18/2019
Since a few days it has become much colder. Especially in the morning you notice that. But the cool autumn weather also often provides nice light and that's why I made my way to the Bielefeld district 'Heepen' last Sunday at 7:30 am. It was quite foggy and with some sunshine over the haze the conditions for landscape photos from the air would have been very good. Unfortunately the fog remained but the sun did not come through. Nevertheless such a weather situation makes interesting photos possible.
The first picture shows the fields at a small forest area, the 'Heeper Fichten'. In the background in the haze the waste incineration plant is just visible. On the second photo you can see the centre of 'Heepen' in the background. But more interesting for me would be the geometric forms in the field in front of it. I don't know why the farmer did this. But he did it very well.
Both pictures were taken with the DJI Mavic 2 Pro.
Misty morning above the fields (Bielefeld-Heepen, Germany)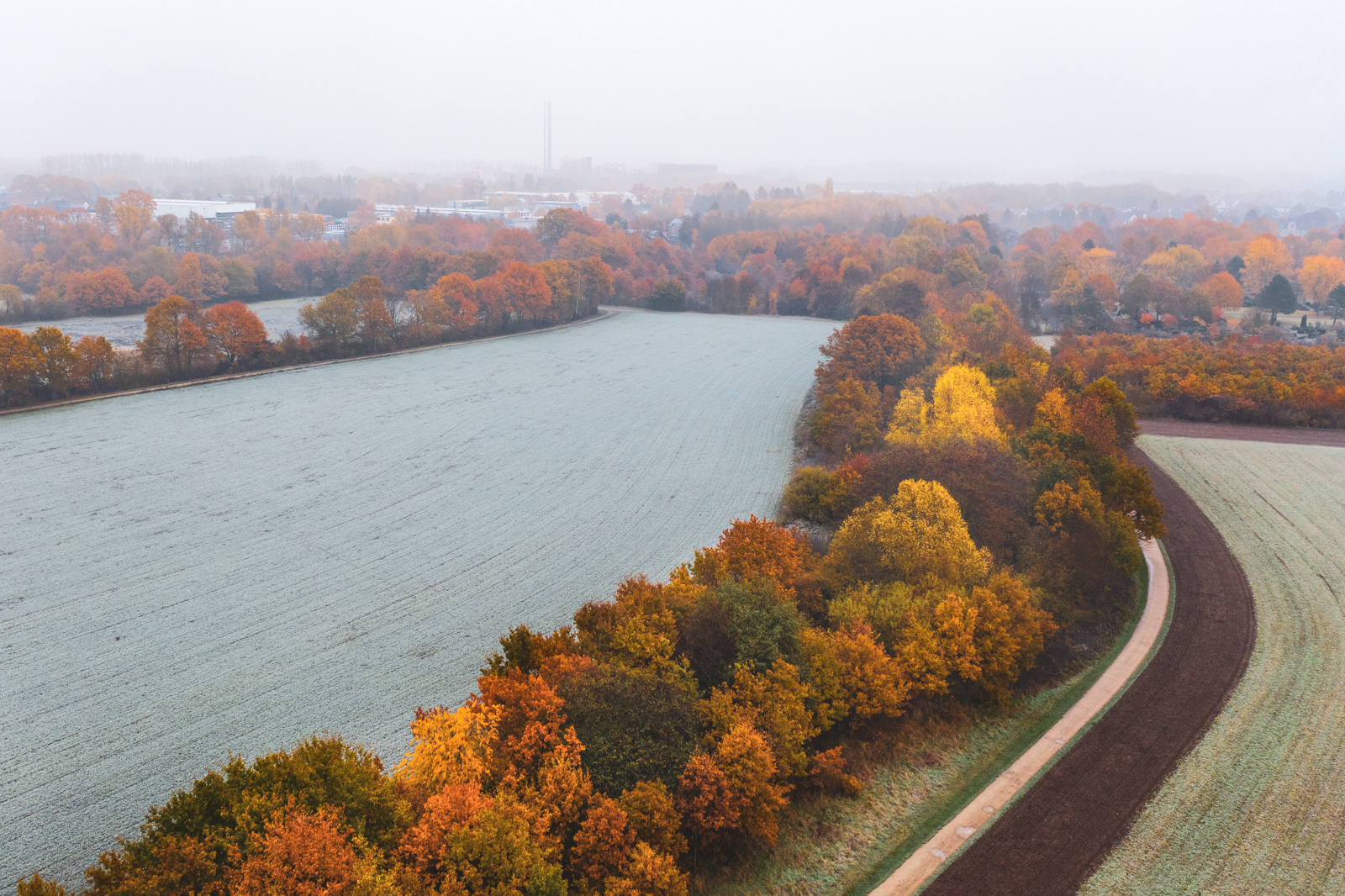 Agricultural Geometry (Bielefeld-Heepen, Germany)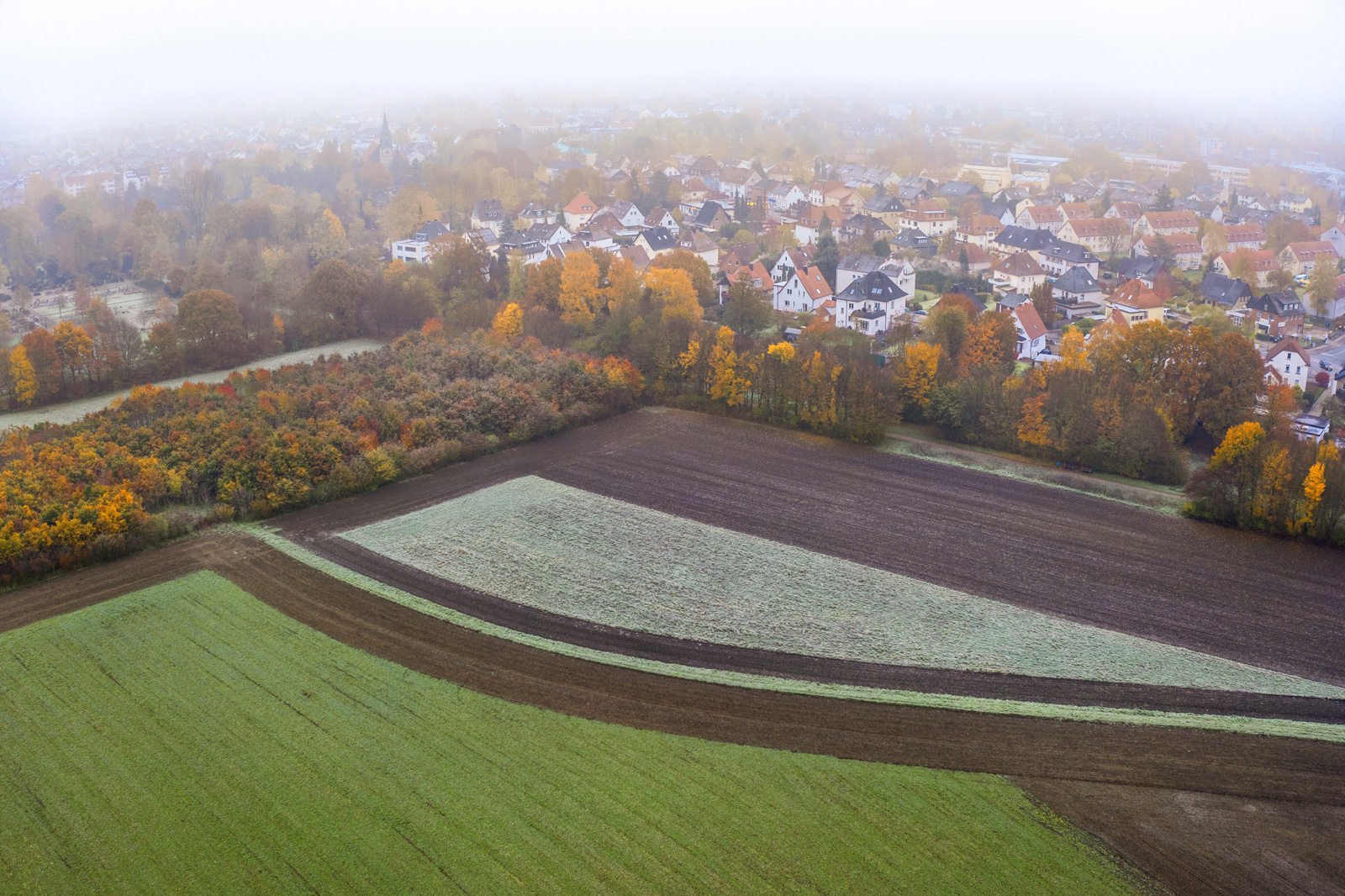 > Nature