05/25/2019
Once again photos from the 'Tierpark Olderdissen' (Bielefeld, Germany) from spring 2019. All pictures were taken with the Sony Apha 7III and the lens Sony SEL 4.5-5.6/ 100-400 mm OSS GM.
Bear lady Jule on a morning walk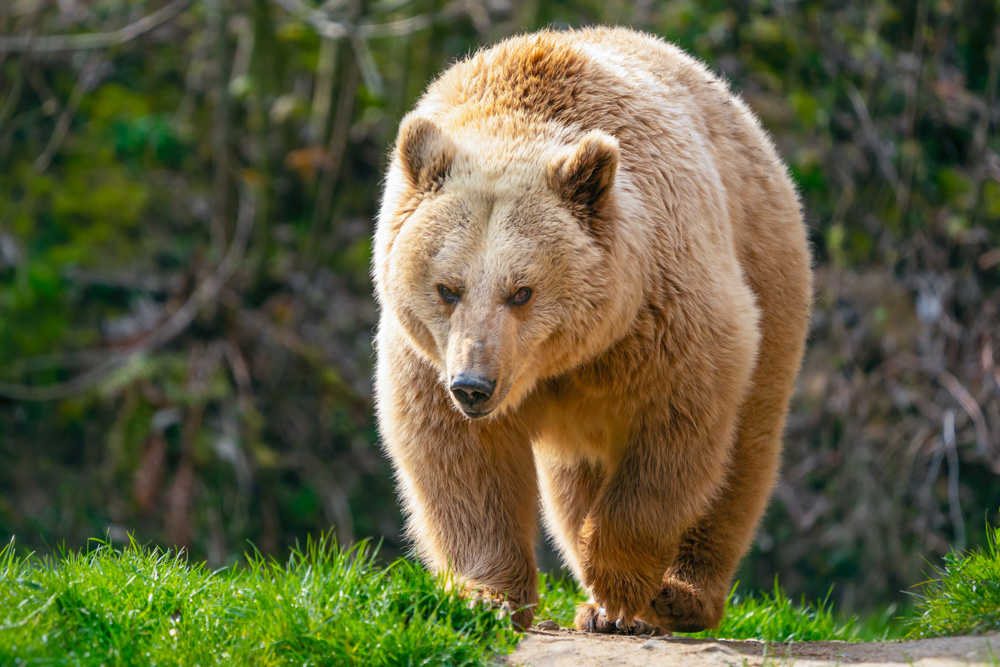 Jule taking a bath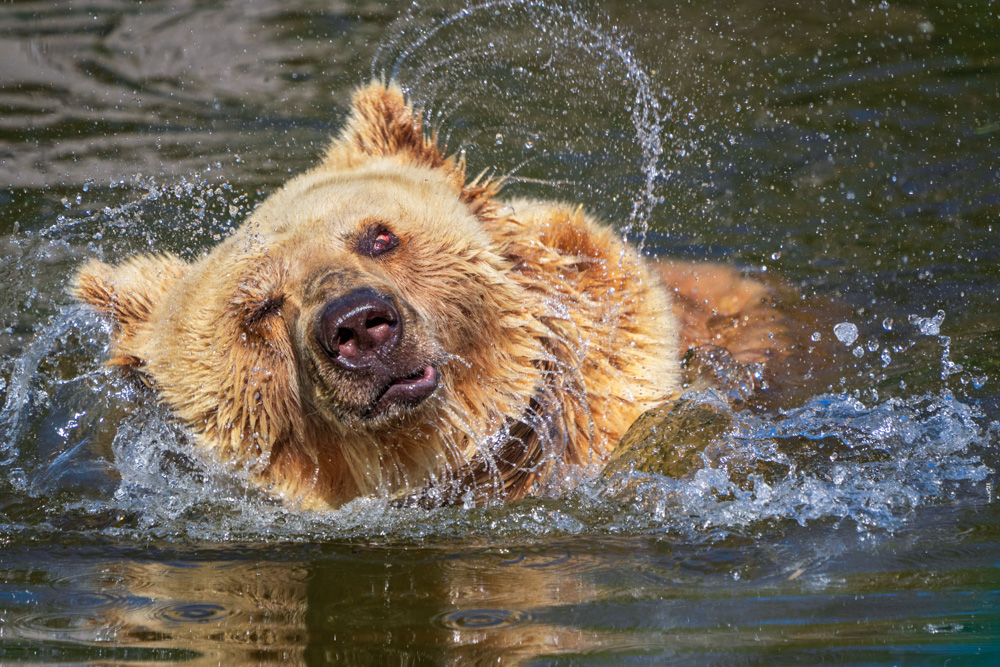 Young wolf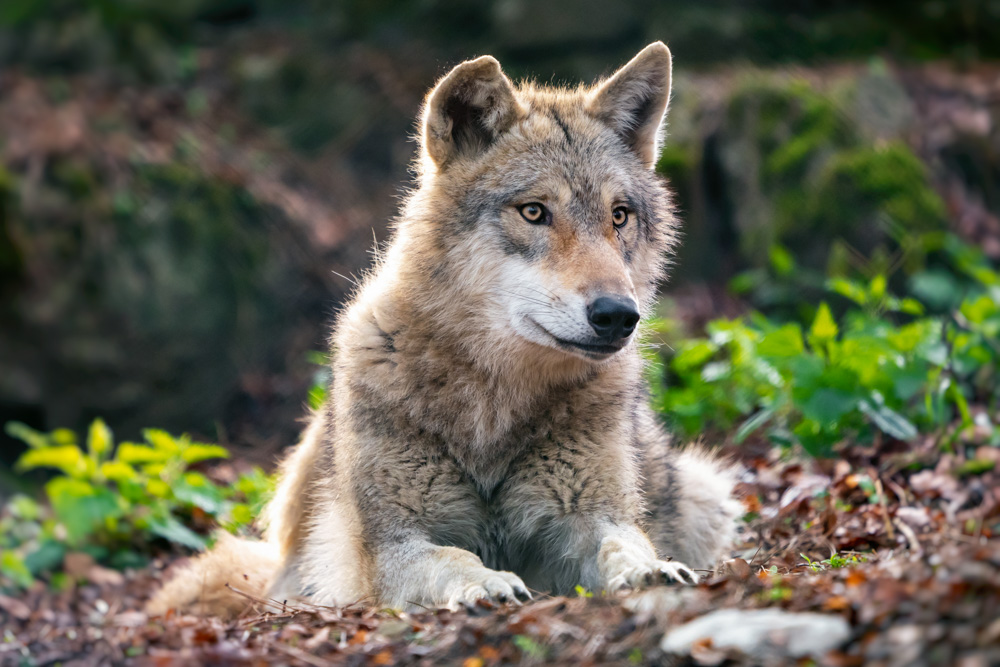 Brown bear Max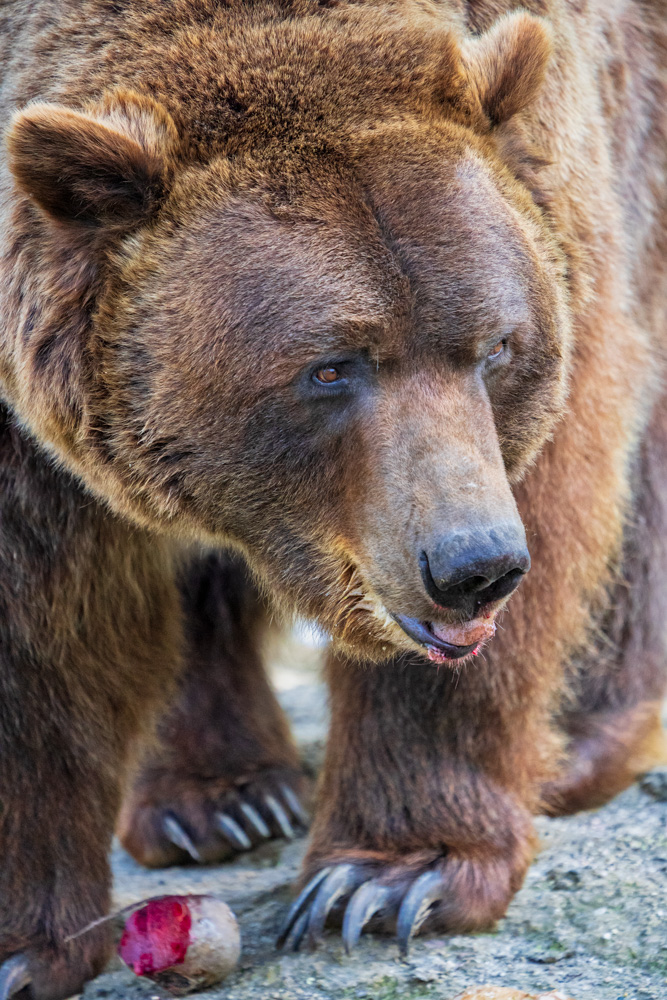 Lynx in a tree #1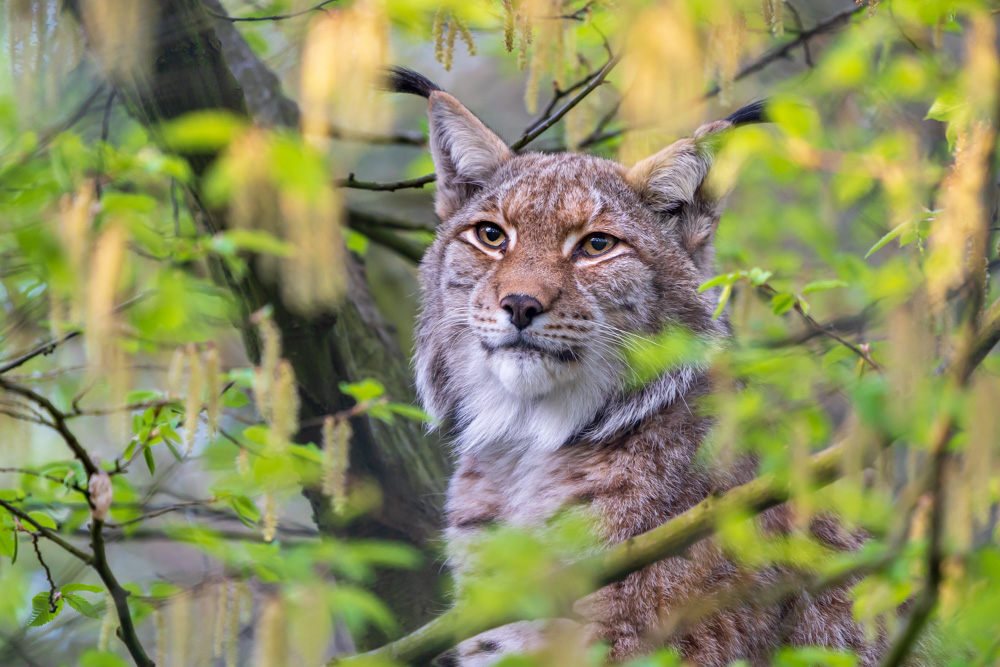 Lynx in a tree #2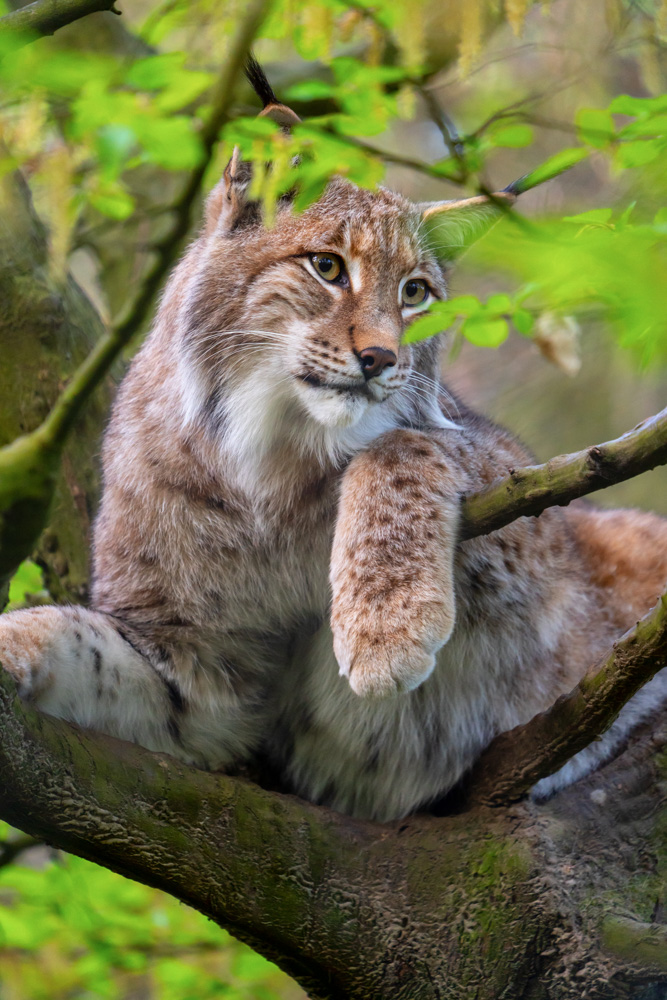 04/13/2019
The flower portraits were created with a quite simple setup. As background I used colored cardboard, which was placed about 40 centimeters behind the flower. For the illumination I used two to three permanent lights with a standardized color temperature of 5400° Kelvin. This makes it easy to control the lighting. What should be taken into account is the ratio of shutter speed and AC frequency. Here in Germany, the electrical current is fed in at 50 Hertz. Therefore I use shutter speeds of less than 1/50 second for such light sources in order to avoid streaks in the picture. Since you should always use a tripod for tabletop photography anyway, this is not a big problem. The pictures were taken with a Sony Alpha 7III with the SEL 2.8/ 90 mm Macro OSS G lens. Since the depth of field is always quite small with short shooting distances like here, I used the technique of focus stacking to be able to show the whole flower sharply.
Portrait of a tulip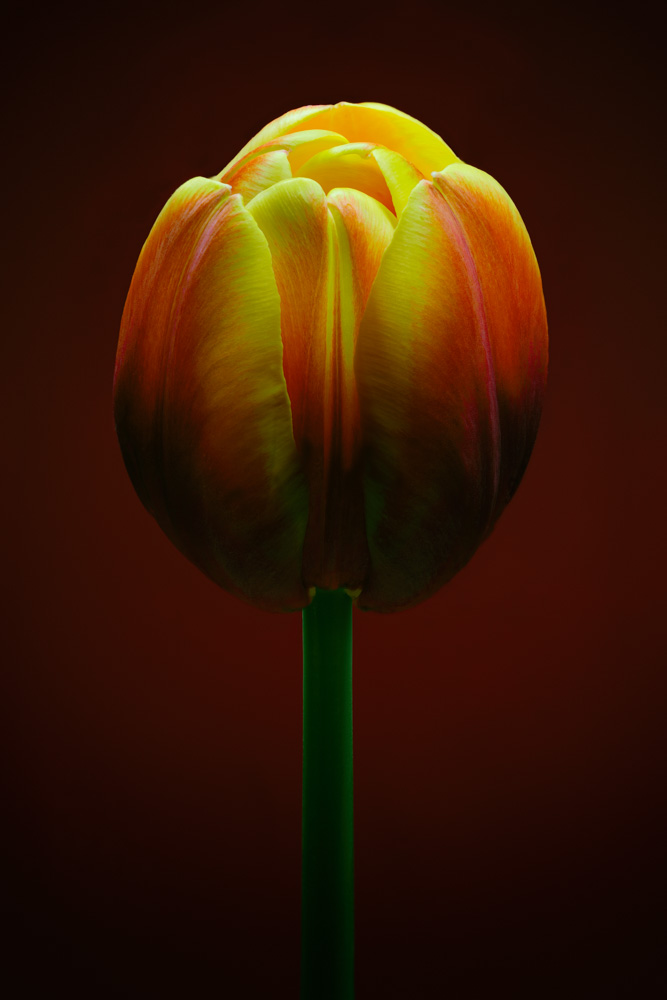 Whitered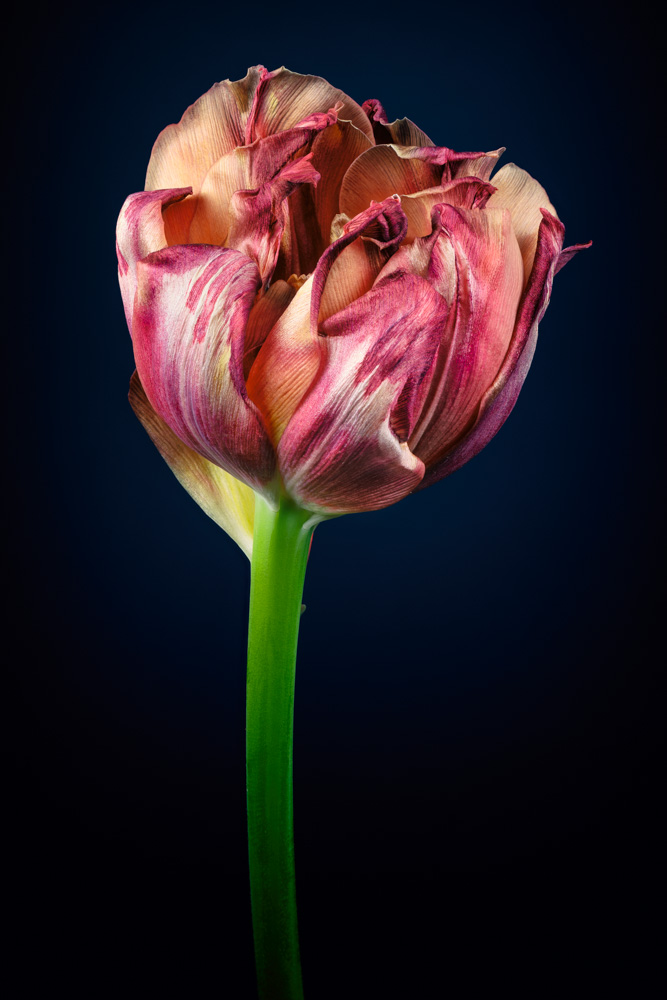 Purple peruvian lily (Alstroemeria)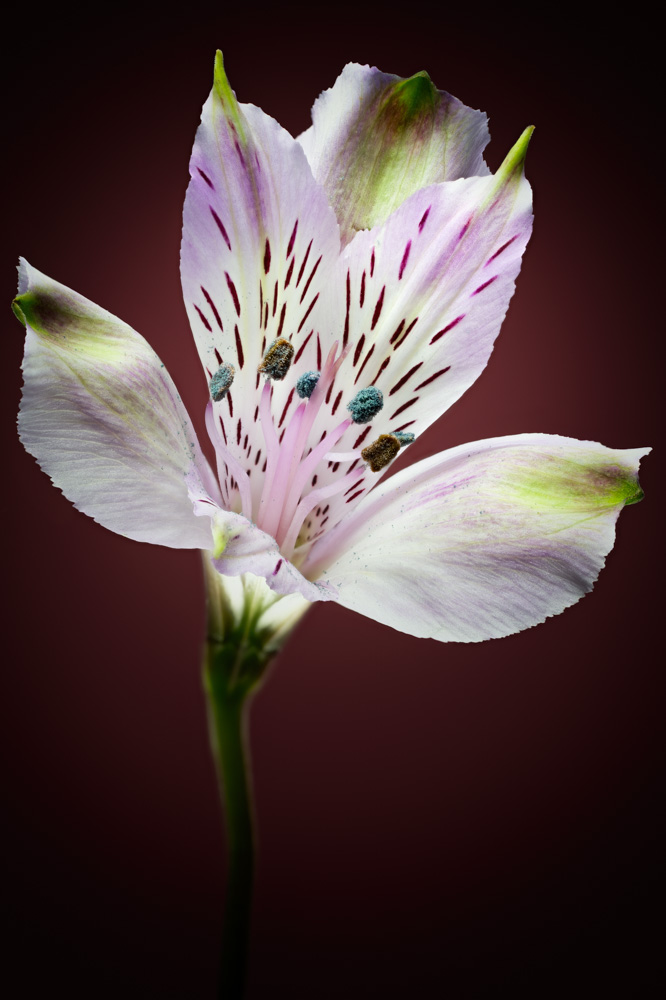 > Nature
04/02/2019
Tulips are certainly among the most popular spring flowers. They are not particularly rare, but they are still very decorative. Whether at home or - like the photo here - outdoors. I photographed the red lady tulip (Tulipa clusiana) in the Botanical Garden of Bielefeld. The second photo was taken after a rain shower.
The first picture was taken in the early morning shortly after sunrise. At this time of day the light is soft and you can avoid too high a contrast. Lights and shadows are easy to control and you still get bright colours. The second photo was taken in the afternoon. I used the Sony SEL 4.5-5.6/100-400 mm OSS GM lens, which can be focused to a shooting distance of less than one meter. It's not yet a real macro lens, but it's very suitable for such pictures, because you can create a very nice background blur. Camera and lens were mounted on a stable tripod. I triggered the camera with a remote shutter release.
Lady tulip (Tulipa clusiana)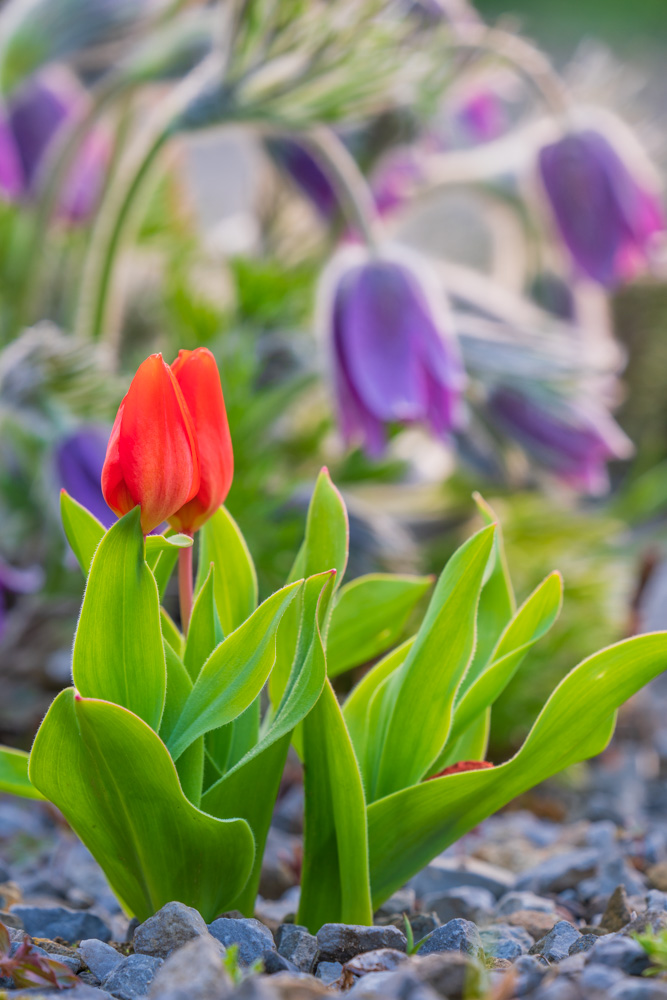 Lady tulip in the rain (Tulipa clusiana)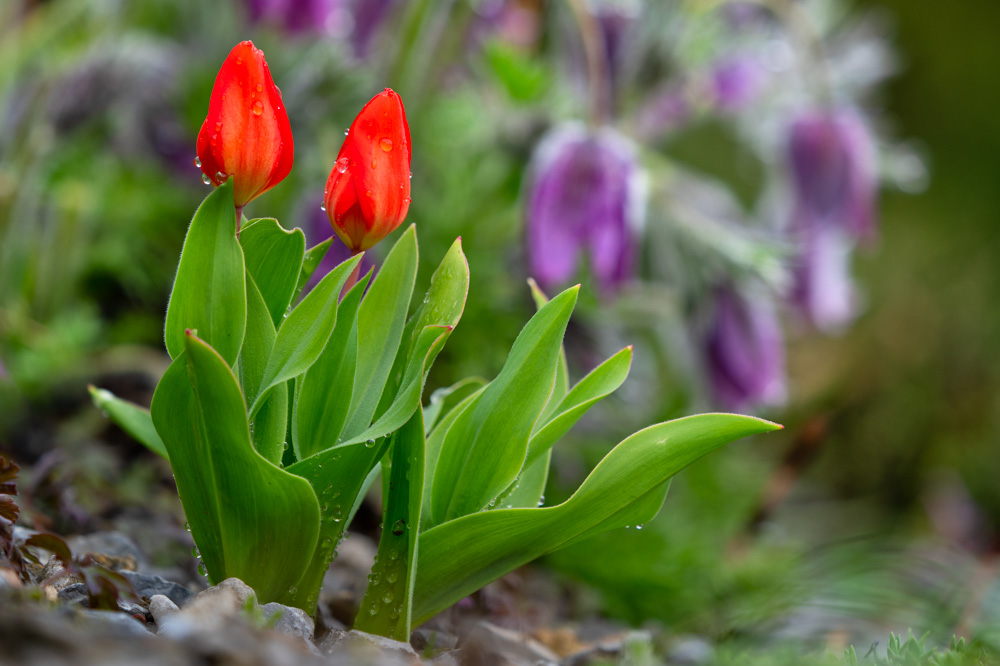 > Nature
04/01/2019
For the two photographs I plundered a bouquet of flowers and took out a eryngo and yellow peruvian lilies, both are tabletop pictures which I illuminated with two continuous lights in front of a dark blue background. Macro shots offer the possibility to show small details, which you would otherwise hardly notice, in a big way. This can be seen particularly clearly in the fine structures of the eryngo.
With macro photos, one very quickly has the problem that the depth of field is too limited to show the entire object in sharp focus. Even if you close the aperture very strongly, in many cases it is not enough and unfortunately one also quickly gets problems with the diffraction blur that reduces the image quality again. A good but somewhat complex solution is a technique called focus stacking. This involves taking a series of pictures in which the focus is slightly shifted from frame to frame until a sharp image is taken of every part of the object. Then the single images have to be combined. I used the software Helicon Focus for this. But it also works with Photo Merge as part of Photoshop, if you don't have to process too many single images. Very helpful is the use of a special focusing rack and also a stable tripod is indispensable.
For both photos I took 60 single shots each. It was important to me that the background remained blurred. This often looks better than when everything is sharp from front to back.
Yellow peruvian lilie (Alstroemeria)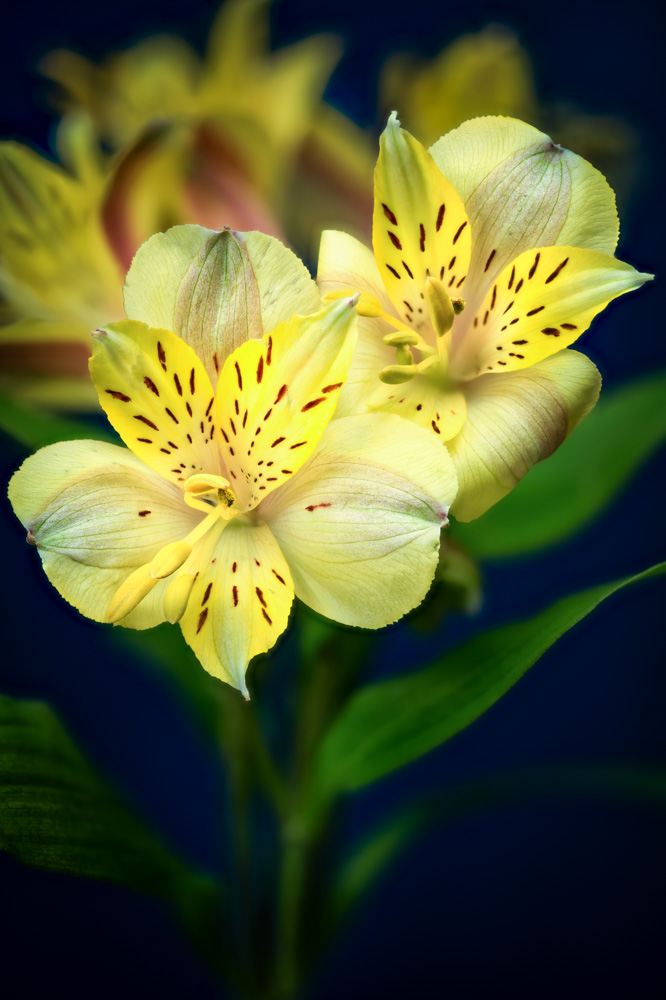 Eryngo (Eryngium)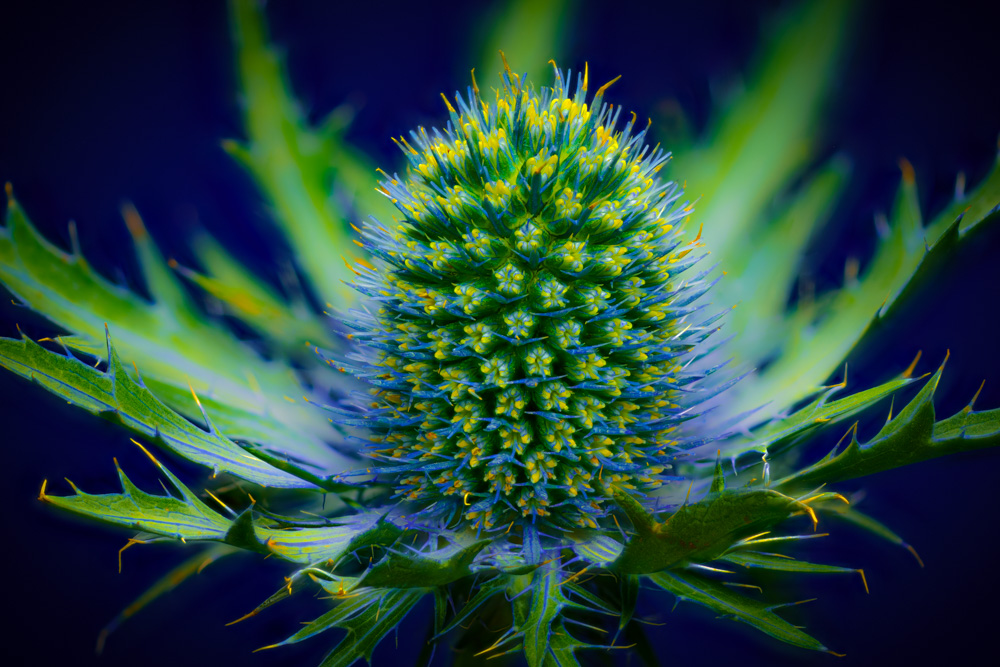 > Nature